ref: cGk Oct 16-20 2018 MENIER GALLERY British Plein Air Painters - Open a 'pdf' of this press release - return to Galleries PR Index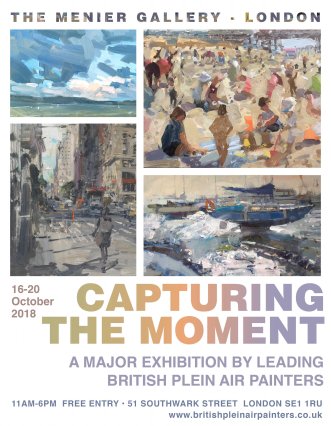 PRESS RELEASE
06.02.2018
Capturing The Moment
16th – 20th October 2018
Menier Gallery
51 Southwark Street
London SE1 1RU
www.britishpleinairpainters.co.uk
info@britishpleinairpainters.co.uk
First major group exhibition of Britain's leading contemporary
"Plein Air" artists
Over 200 paintings for sale by 27 artists including:
Ken Howard RA, Fred Cuming RA, Peter Brown NEAC ROI PS,
Trevor Chamberlain ROI RSMA WGA, David Curtis ROI RSMA,
Richard Pikesley PNEAC RWS & TV's Adebanji Alade ROI
London, UK – CAPTURING THE MOMENT is the first major exhibition of today's foremost contemporary
British artists working 'en plein air', or painting outside, often in adverse weather, each one striving to
capture the essence of their surroundings with freshness and passion.
It runs from 16th - 20th October at London's Menier Gallery
CAPTURING THE MOMENT will feature more than 200 original paintings by 27 contemporary British
artists, working in a wide range of locations from wide, open beaches to the urban landscapes of the
city. Each painting featured will have its origins based outside; some will have been finished on site
and some painted in the studio. Every painting strives to capture the essence of the landscape in which
it is based.
The idea was the brainchild of a dedicated group that were painting together in Portugal in 2017. Lists
were drawn, votes were made, artists were approached and the result promises to be one the most
exciting exhibitions to be held in 2018. It is the first exhibition by the newly formed collective British
Featured artists
Adebanji Alade ROI
Peter Brown NEAC ROI PS David Pilgrim ROI
David Bachmann Valerie Pirlot
Trevor Chamberlain ROI RSMA WGA Adam Ralston
Roy Connelly Michael Richardson WGA
Fred Cuming RA Andrew Roberts
David Curtis ROI RSMA Chris Robinson RIBA
Tony Dakin Maria Rose
Benjamin Hope Daisy Sims Hilditch
Felicity House PS John Stillman RSMA WGA
Ken Howard OBE RA Haidee-Jo Summers ROI ARSMA
Tom Hughes Karl Terry WGA
Tim King PCAFAS Mo Teeuw IEA
Richard Pikesley PNEAC RWS John Walsom AROI WGA
Notes to Editors
For more information on the show and individual artists visit:
www.britishpleinairpainters.co.uk
For any press-related enquiries and images please contact:
Mo Teeuw
mo@moteeuw.co.uk
07939228912
About the Menier Gallery
The Menier Gallery hosts a wide-ranging programme of exciting exhibitions. It is located in the historic
Menier Chocolate Factory, only minutes from London Bridge and Tate Modern, and its work supports the
arts charity Paintings in Hospitals, whose mission is to inspire better health and wellbeing through art.