ref: bHl Nov 14-19 2017 FULHAM LIBRARY The Society of Fulham Artists & Potters - Open a 'pdf' of this press release - return to Galleries PR Index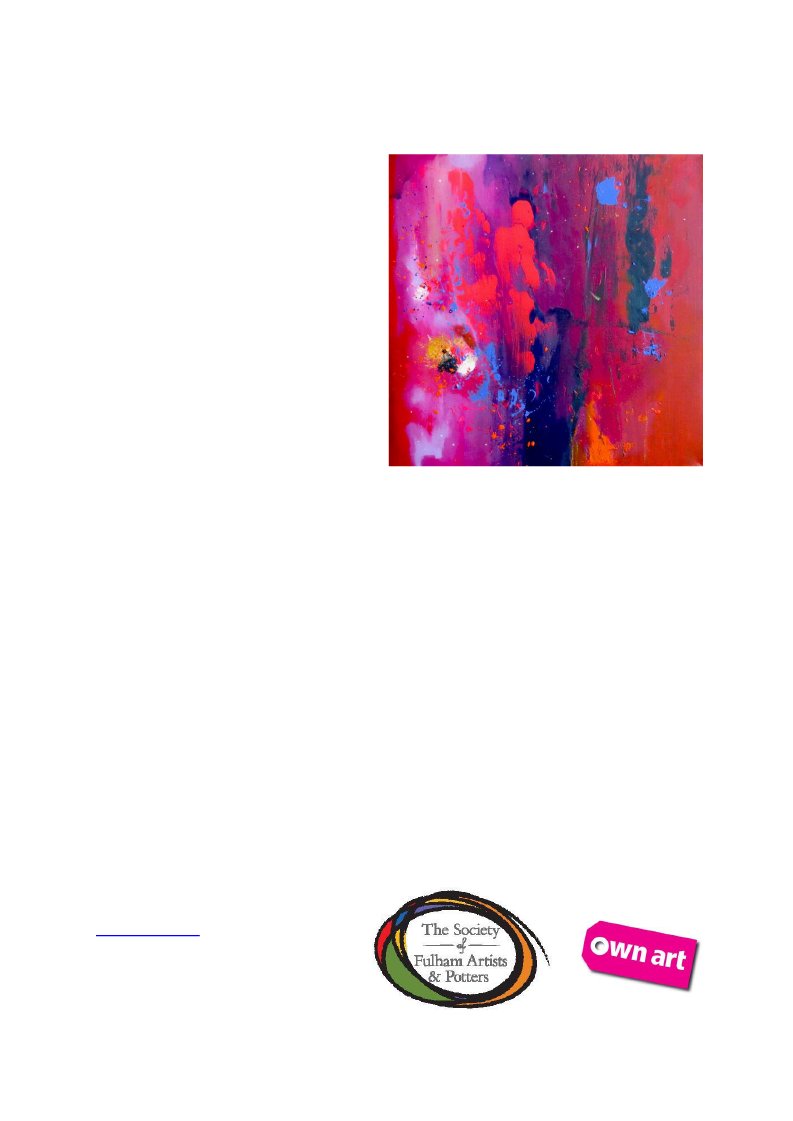 The Society of Fulham Artists and Potters
Autumn Exhibition and Sale, November 14 – 19
FULHAM LIBRARY
598 Fulham Road, London SW6 5NX
Tue-Thur 10–8
Fri-Sat 10–5
Sun 11–3.
A wide range of paintings and
other framed works, plus
ceramics, sculpture, wood and
glass work.
Free admission.
The Fulham Society of Artists was founded in 1952 as a not-for-profit
organisation 'to encourage the practice and exhibition of the work of local
artists in association and to attract and interest the public in the visual arts.'
Membership is open to anyone over the age of eighteen living, working or
studying in the Borough of Hammersmith and Fulham and neighbouring
boroughs. In 2003 the society combined with a local group of potters, giving
us a new name, 'The Society of Fulham Artists and Potters' (SoFAP).
We create an opportunity for artists who practise in all media to develop,
refresh, practise, exhibit and sell their work in a supportive and enthusiastic
community. Run by a committee and volunteers, we hold two large
exhibitions a year at the Fulham Library, take part in various local markets,
run workshops and provide guided outdoor painting (Plein Air) days.
The exhibition and sale is a great way for the community, local businesses,
family and friends to come and view our artworks – and to buy them. As
members of Own Art, buyers have access to an interest-free loan to enable
them to buy artworks in an affordable manner. Lots to see and enjoy: we hope
to see familiar and new faces.
Twitter: @SOFAP1
Facebook: Society of Fulham Artists &
Potters
Email: sofapmembership@hotmail.co.uk