ref: b5l Until Nov 26 2017 FIDRA FINE ART Holger Mohaupt - Open a 'pdf' of this press release - return to Galleries PR Index



Holger Mohaupt
"I See What You Like"
with etching from John Bulloch Souter (1890-1972)
28 October – 26 November 2017
Opening with refreshments on Friday 27 October 6-8pm
Our next exhibition at Fidra Fine Art features the smartphone photographic
work of German artist, Holger Mohaupt. Set in our everyday landscape, Holger's
cleverly observed narratives elevate commonplace experiences into engaging
stories. His work invigorates a sometimes austere world thoughtfully and
aesthetically.
The title of the exhibition "I See What You Like" is a playful hint at the curation of
the show. All the images on display are "likes" from the artist's Facebook page,
which he has been regularly feeding with his distinct imagery of his every day
experiences for the past five years - social media acting as a new form of
participatory curation.
To contrast with Holger's handprinted digital photographs is a small series of
portrait etchings by the Aberdeen artist John Bulloch Souter (1890-1972). These
pieces, created around one hundred years ago using a process more laborious
than the relatively instantaneous digital techniques of today, invites the viewer
to consider the changes in aesthetics, processes and how art is consumed and
enjoyed today.
A third strand to this exhibition is a video installation titled, 'Private View' which
is hosted in the St Andrew Blackadder Parish Church on the High Street in North
Berwick. Here Holger again is engaging in a dialogue, this time with memory and
landscape. The video projection in the main hall of the church was inspired by
the memorial benches in and around the seaside town in East Lothian. The peace
and tranquility of the church invites the visitor to contemplate and reflect
beyond the every day.
Holger describes this work as, "…a call for dialogue. A dialogue between personal
landscapes and the psychogeography of the everyday, with his smartphone as a
walking stick."
"I See What You Like" at Fidra Fine Art, will open with a Preview on Friday 27th
October from 6-8pm and will continue Saturdays and Sundays open 12-5pm
until 16 November. Midweek appointments are very welcome.
Alan Rae, 45 Dirleton Avenue, North Berwick, East Lothian EH39 4BL
01620 895057 – www.fidrafineart.co.uk - info@fidrafineart.co.uk
"Private View" video installation at St Andrew Blackadder Parish Church will run
from 28 October to 26 November open Monday to Friday 9am-2pm and
Saturdays 10am-2pm.
Notes to Editors:
Fidra Fine Art
Covering over 200 years of the best in Scottish fine art, watercolour and oil
paintings, drawings and prints, Fidra Fine Art is an art gallery based in North
Berwick, East Lothian and currently displays work from a range of leading
Traditional, Impressionist, Modern and Contemporary Scottish artists. Current
artists include Matthew Draper, Simon Laurie, Dominique Cameron, Davy Brown,
George Birrell, Neil Macdonald, Alice McMurrough, Lesley Banks, Jock MacInnes,
Angela Repping, Jayne Stokes and many more.
Holger Mohaupt
Holger Mohaupt is an artist and filmmaker. Born in Germany, Holger studied
visual communication and visual anthropology at the Art Academy in Hamburg.
After a postgraduate diploma in Electronic Imaging at Duncan of Jordanstone
College of Art & Design in Dundee Holger settled down in Scotland. Over the past
twenty years his distinct visual work has been broadcast on TV and exhibited
internationally at festivals and in galleries.
His research practice is focused on landscape, memory and immersive
technologies. He is a recipient of the New Media Scotland Award and is currently
working on a new digital film project called 'Invisible Landscapes'.
The new series of photographic work 'I See What You Like' on show at Fidra Fine
Art is a follow up to an earlier work developed for the Ballarat International
Photography Festival in Australia.
http://www.room8.org
John Bulloch Souter (1890-1972)
John Bulloch Souter was a painter, draughtsman, printmaker and restorer. He
was born in Aberdeen in 1890 where he studied at Gray's School of Art and later
via a scholarship at Hospitalfield, Arbroath. A travelling scholarship allowed him
to visit the continent, where he studied the work of Velasquez, Chardin and
Vermeer. He first showed at the RA in 1914 where he would continue to exhibit
until 1952. After serving in the Royal Medical Corps during World War I, he
married Christian and moved to London. It was during this post-war period that
he made his name as a portrait painter; his subjects included such personalities
as Ivor Novello, Gladys Cooper and Fay Compton. He exhibited paintings and
etchings at Redfern Gallery, the Fine Art Society, RSA and the RA where his
notorious painting The Breakdown was shown in 1926. During World War II he
worked in the Censorship Department as a translator whilst also restoring
paintings at Windsor Castle. He returned to Aberdeen in 1952, where he
remained. Kenneth M Guichard – British Etchers 1850-1940
Alan Rae, 45 Dirleton Avenue, North Berwick, East Lothian EH39 4BL
01620 895057 – www.fidrafineart.co.uk - info@fidrafineart.co.uk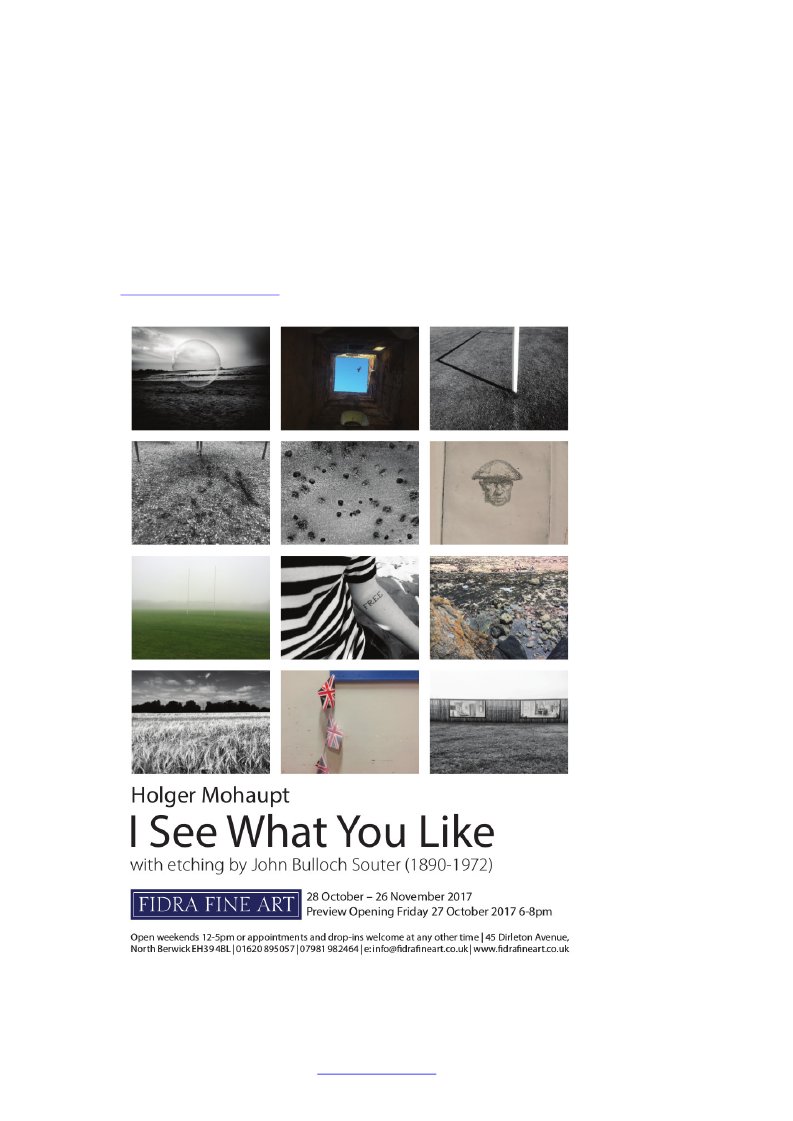 For further information and invites to the Preview please contact:
Alan Rae
Fidra Fine Art
45 Dirleton Avenue
North Berwick
EH39 4BL
01620 895057 (m) 07981 982464
www.fidrafineart.co.uk
info@fidrafineart.co.uk
Alan Rae, 45 Dirleton Avenue, North Berwick, East Lothian EH39 4BL
01620 895057 – www.fidrafineart.co.uk - info@fidrafineart.co.uk