ref: jVm Until Mar5 2016 54 THE GALLERY Teri Walsh - Open a 'pdf' of this press release - return to Galleries PR Index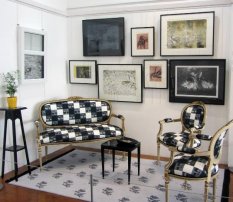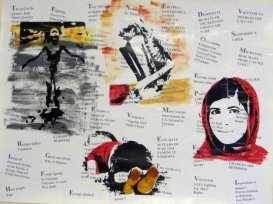 BIRDLAND+ - a new "one woman show" by Teri Walsh
54 The Gallery, 54 Shepherd Market, London W1J 7QX
Monday 29th February to Saturday 5th March 2016 (open daily 11 to 6)
Following on from her successful exhibition last year in Hastings, Teri's latest show, Birdland+, will
feature striking images and installations in a variety of media.
Teri is an Eastbourne based artist whose work addresses a wide range of subjects from scenic ("a
sense of place") to serious (topical, environmental). She explores the interaction and cross-over
between 2D and 3D, negative and positive, and abstraction and realism and often works on recurring
themes or subject matter and in series.
Taking advantage of the four-room layout of 54 The Gallery, the first two rooms will mainly feature
limited edition hand-pulled prints (such as lithographs and screenprints) including 21 In Memoriam
and Children Can Change the World ….? on the one hand and San Francisco, USA on the other. One
of her hand-made webs will also be there as will I'm only a Freud in a Gilded Cage. Other (unframed)
prints will be available in browsers. The third room (at the back of the ground floor) will hold an
expanded version of the Birdland installation, with her signature Crow motif and including two new
large oil on linen / mixed media paintings as well as furniture, a rug, prints etc. In the downstairs
gallery there will be a number of large new collages such as How to Spend It I to IV.
It promises to be an exciting, challenging and thought provoking show. More of her work can be
seen on www.teriwalshartstuff.com. Teri will be at the gallery and hopes to be making new work.