Oct 5-17 2015 MENIER GALLERY Draw 15 - Open a 'pdf' of this press release - return to Galleries PR Index



DRAW 15

94th Annual Exhibition of the Society of Graphic Fine Art

5-17th October 2015 Mon-Sat 11.00am-6.00pm

The Menier Gallery, 51, Southwark St SE1 1RU

The Society of Graphic Fine Art – The Drawing Society

(www.sgfa.org.uk) is the only national art society dedicated

exclusively to drawing. Founded in 1919 in the etching class

of the Central School of Arts and Crafts and boasting such

alumni as Ronald Searle, Frank Brangwyn and Dame Laura

Knight, today the Society promotes fine drawing skills in

both traditional and contemporary media. Each year an open

exhibition is held at the Menier Gallery in Southwark, and

this year the 94th one, DRAW 15, with optional theme 'Time

and Space' will run from October 5-17, with a Private View

on Tuesday October 6.

98 professional artists working across all drawing and

printmaking media will show 251 works ranging from

figurative to non-figurative, colour to monochrome, and from

etching to collage. Dr Sumi Perera RE , whose work is in

Tate Britain, the Victoria and Albert Museum, the Ashmolean,

and the Yale Cente for British Art, is strongly featured, as is

Fred Cuming RA – the youngest-ever member to be elected

to the Royal Academy in 1974, and one of Britain's best-

known contemporary landscape painters. Professor Ken

Howard, OBE RA, and Maz Jackson, the internationally-

renowned tempera artist, will also exhibit.

The exhibition will be opened and the prizes awarded by

John Huddy, owner and founder of illustrationcupboard –

a unique central London Art Gallery representing the most

distinguished contemporary book illustrators from around the

world. They will be selected by Martin Shortis, a tutor at the

Royal Drawing School.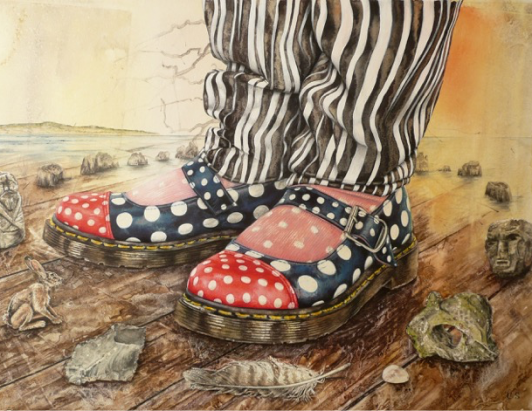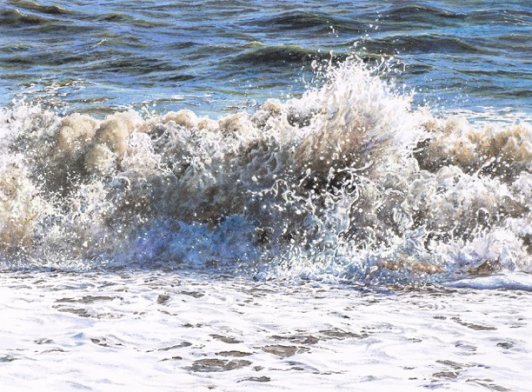 Claire Sparkes Maz' Shoes
Felicity Flutter Spray and Surf