Apr 24-30 2015 THE QUAY GALLERY SNAPE Margaret Berry - Open a 'pdf' of this press release - return to Galleries PR Index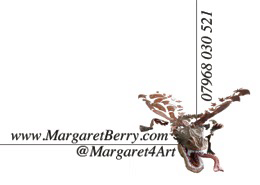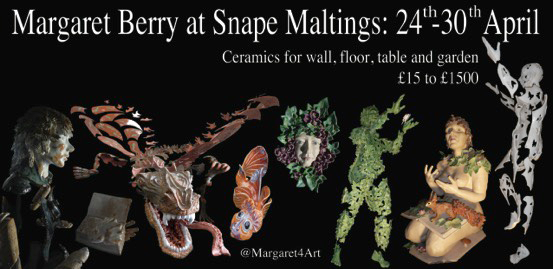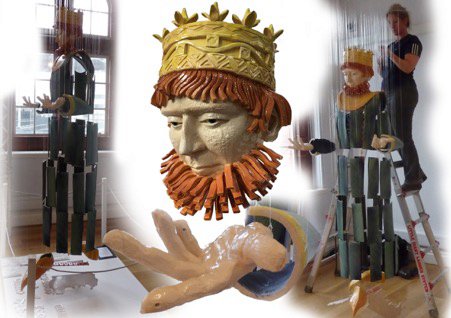 Press release 27th March 2015
Margaret Berry's A Walk on the Wild Side
The Quay Gallery, Snape Maltings
24th-30th April
A life-sized ceramic sculpture of a woman reclining on a movable swing
takes centre stage. Other sculptures include horses, hares, frogs, crabs and birds.
Full catalogue on www.MargaretBerry.com 17th April.
She specialises in suspended sculptures such as a ten-foot flying dragon
One of seven
large
stoneware
sculptures
displayed at
the Pierhead
in Cardiff
Bay, South
Wales.
"Hywel
Dda", about
2.5m tall.
Margaret
suspends the
stoneware on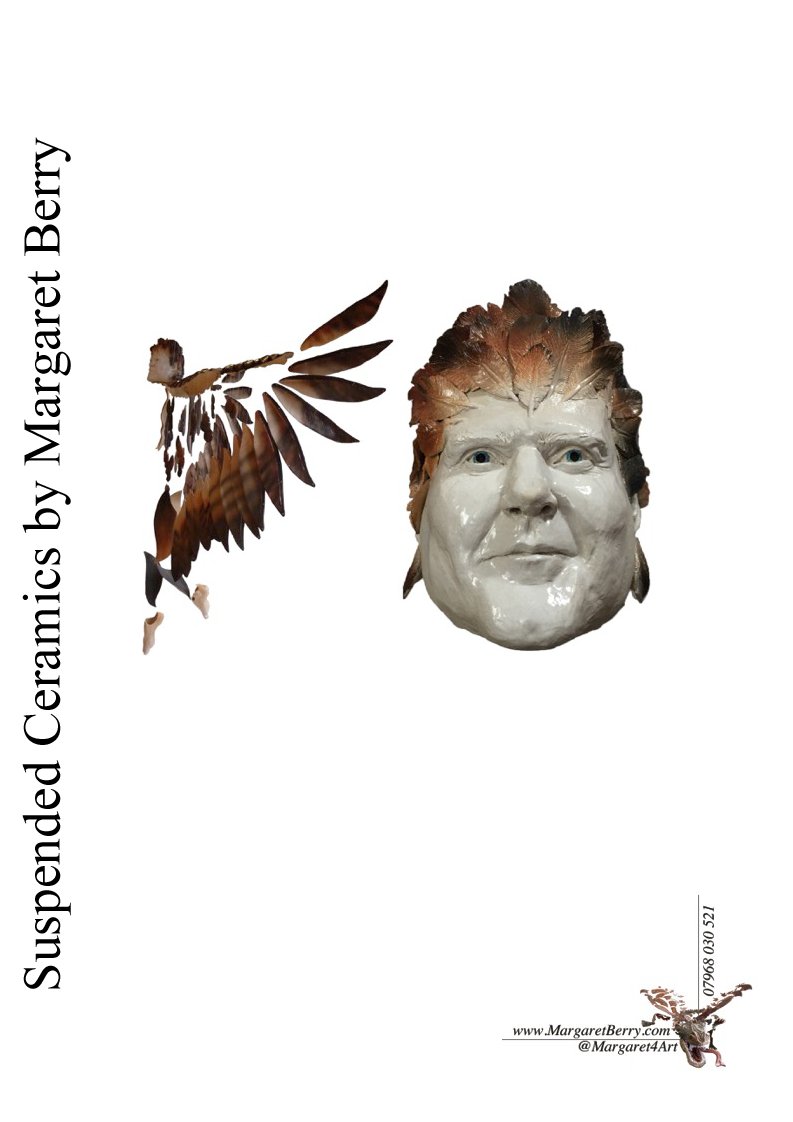 Press release 27th March 2015
During the exhibition, Margaret will be creating a large sculpture in fibre-
strengthened air-drying clay, which will be offered for sale on conclusion of the show
at Snape. It will also be possible for people to experiment with clay whilst visiting the
exhibition at the Quay Gallery, Snape Maltings. The gallery is close to the road and
unsurprisingly sited by the river.
Another recent creation by Margaret is Bryn Terfel as a kite about 3metres wide,
wing-tip to wing-tip.
At Margaret's last exhibition people typically paused at the door to say
"Wow". Adjectives in common use by visitors at the show were:
Amazing
Incredible
Detailed
and one completely unknown German female visitor described it as the best
modern art she had ever seen.
The exhibition runs for seven days from Friday 24th April to Thursday 30th and is
open daily 10am to 5.30pm (Friday from noon; Thursday until 3pm). Margaret would
be delighted to welcome you to her small, brief exhibition brought all the way from
West Wales. She will next exhibit her work in June in Oberderdingen, in South West
Germany. She has semi-permanent displays at the "Pili Palas" butterfly house in
Menai Bridge North West Wales and hotels in and around Dolgellau.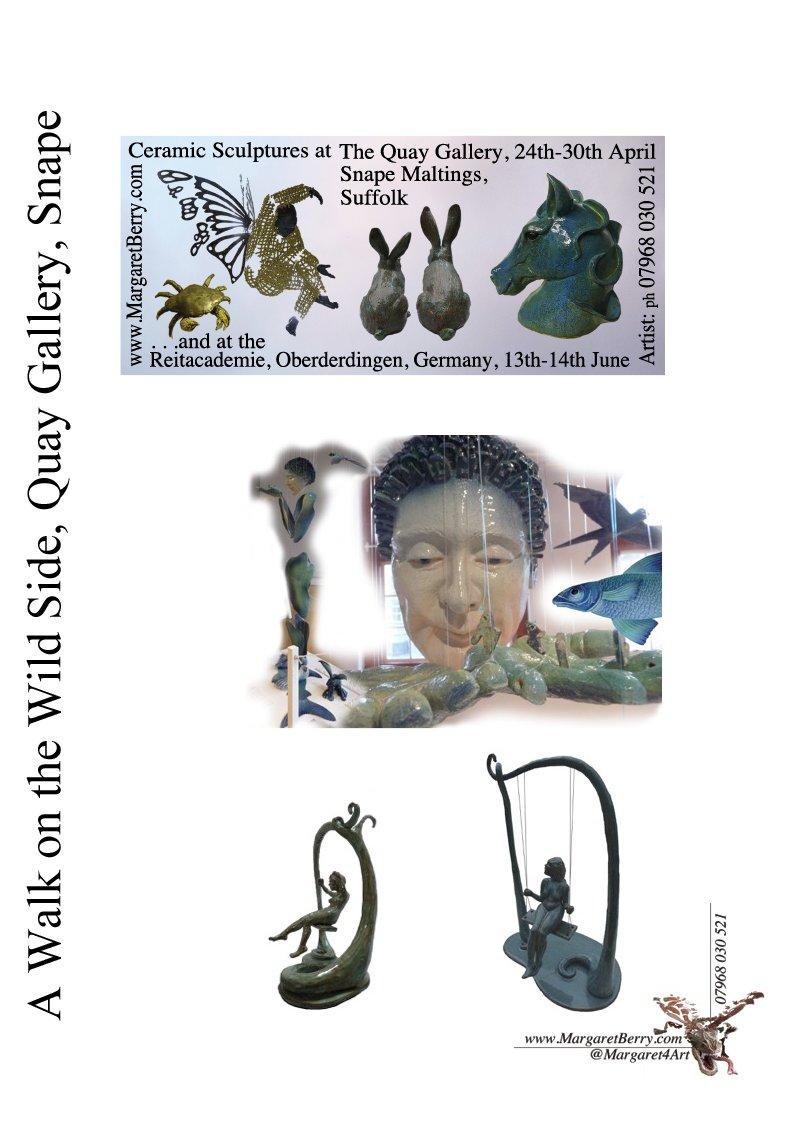 Press release 27th March 2015
SCULPTURES FOR THE SNAPE MALTINGS' QUAY GALLERY
Taliesin 2metres tall approximately
A changeling
from Welsh
mythology and
history as each of
his selves:
Poet
Small bird
Fish
Hare
Grain of
corn
Plants form the
skin's surface
decoration as he
was born of a
witch's potion.
Life-sized lady on the movable swing
This is in
construction
at the
moment.
Smaller
version
examples that
stand at about
50cm
including the
mobile swing
frame:
•
•
•
•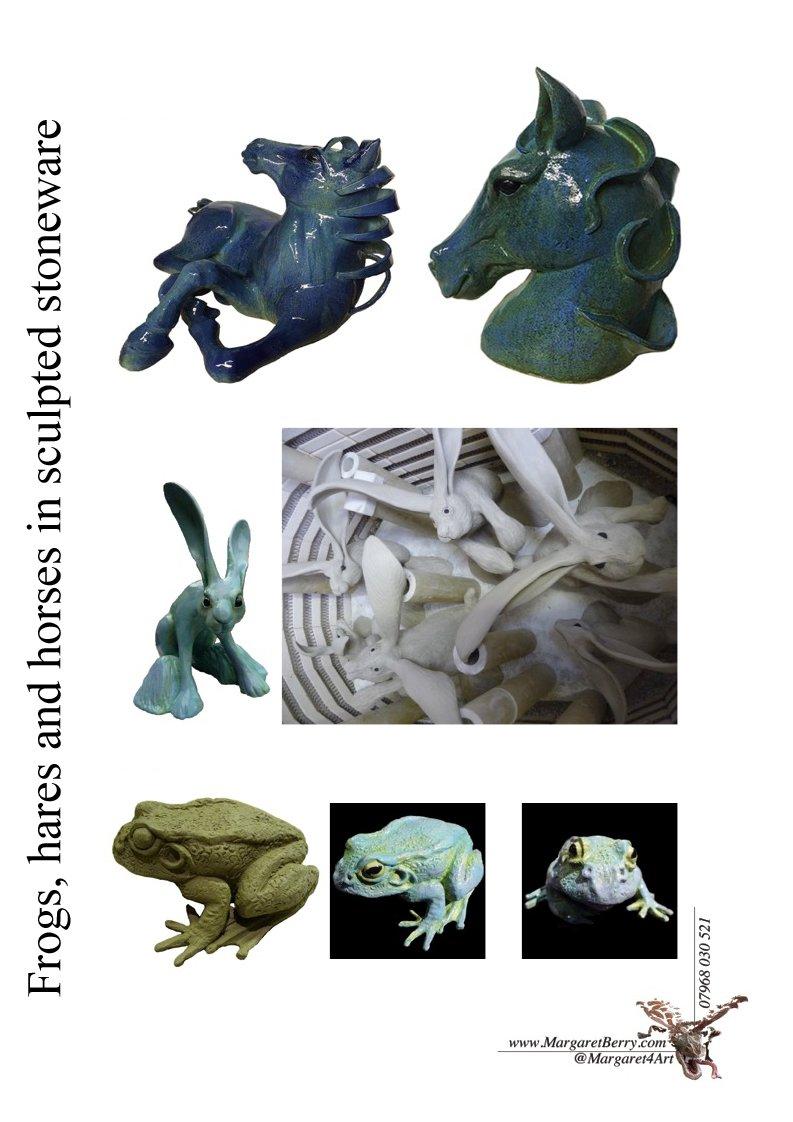 Press release 27th March 2015
Horses
Other pieces are in progress.
These two are
approximately
0.5m tall.
Hares
Hares from 10cm to
50cm tall (including
ears)
Frogs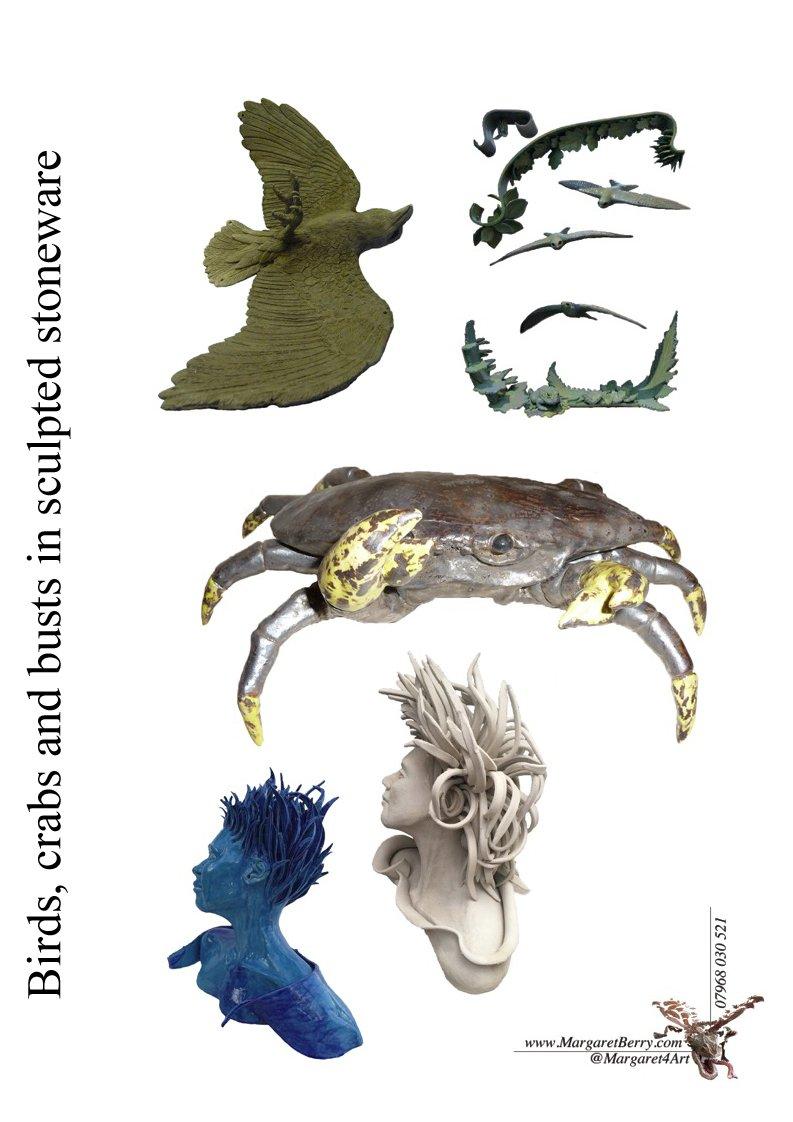 Press release 27th March 2015
Birds
Suspended
from threads
in various sizes.
Pictured: crow,
approximately
50cm wingspan
and swifts,
made for
Coed Cae.
Crabs
This crab is
approximately
10cm wide.
Decorated in
texture and
glaze
on all
surfaces
Busts
Life sized
busts in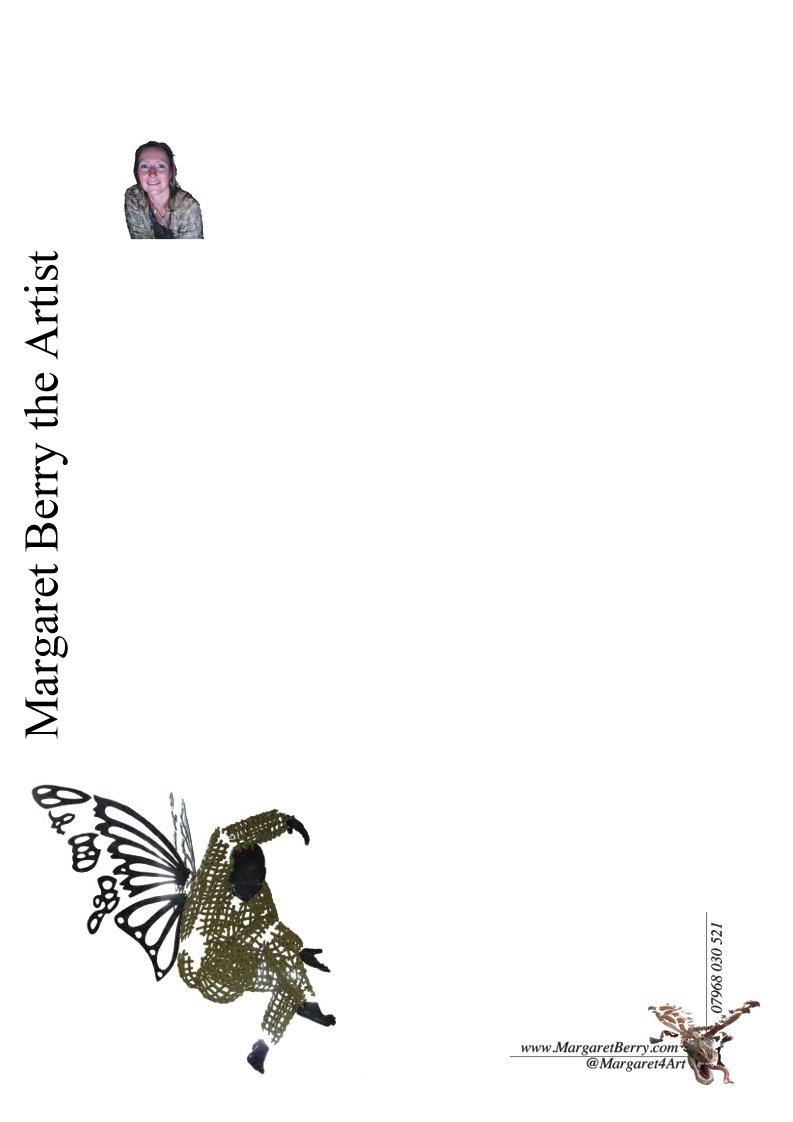 Press release 27th March 2015
THE ARTIST
Margaret created her first suspended sculpture in 2005 and won Best
of Show with "Aspects of Love". Her next suspended piece was sold
to hoteliers in Oberderdingen, Germany forming a centrepiece to the
wooden spiral staircase in their grand entrance hall. She also makes
large sectioned sculptures; Unicorn is the size of a small pony.
Margaret was born a five-minute walk from London's Fulham Pottery into a loving
family and was encouraged to enjoy the arts. She learnt to draw with Salvidor Dali
prints on the wall and a piano in the lounge.
At 16, she passed O'Level art with a pair of jointed suspended puppets. At A'level,
she sculpted a clay bust that was mistakenly disposed of in the school skip. She
lacked confidence in her work and stopped drawing at 18 years of age.
She pursued a technical career but it gave her little satisfaction and she assumed it
was the job that was at fault. "I loved the study but loathed working in the IT arena. In
retrospect I had some truly wonderful jobs but they simply weren't right for me" she
says. At night, after her day in the city, she would often look through the Road Atlas
of Great Britain and dream of options.
Three fantastic IT jobs later, she drove to Machynlleth, Mid-Wales for the weekend.
She found an isolated stone cottage to rent and resigned on the Monday. Less than
four months later she had found a six-week drawing course and discovered that she
could draw.
"I listen to my heart when
In 2005, she completed the exceptional Foundation Art
course at Coleg Menai in Bangor with full distinctions
and tremendous certainty that clay was the way
forward. She won an award with a suspended sculpture
in 2005 and bought her electric kiln a year later. She
then finished renovating her period cottage and started
trading as a sculptor in April 2009.
Ever since she was at school, people have asked
Margaret what she does for a living often adding
that they had thought her to be an artist.
Margaret's work is mostly sourced from Welsh
poetry, myths and legends adopting patterns and
textures found in nature.
I make decisions now and
I'm a lot happier. I like to
work with clay everyday
and miss it, even pine for
it when I don't."