Apr 20-May 29 2015 GALLERY PANGOLIN TORO! - Open a 'pdf' of this press release - return to Galleries PR Index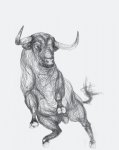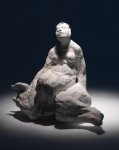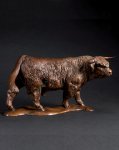 Bull
Anita Mandl
Turning Bull
Terence Coventry
Crubach of Redrullian
Nick Bibby
G A L L E R Y P A N G O L I N
TORO!
Sculpture and works on paper exploring and celebrating 'the bull' in all its guises
20th April – 29 May
Minotaur No 65 Illusionado
Nicola Hicks Marcus James
Nick Bibby Jon Buck Lynn Chadwick
Terence Coventry Sam Herman Nicola Hicks Marcus James
Anita Mandl Mick Ponting Deborah van der Beek
■ Set on the slopes of the Cotswold escarpment, Gallery Pangolin is one of the few
galleries to specialise in sculpture and related works on paper. Over the past twenty
years the gallery has established a reputation for works of quality and excellence
by both Modern and contemporary artists.
■ Sculpture and works on paper exploring and celebrating the bull, a formidable
beast with mythological significance.
■ The centrepiece of the show is a powerful series of life-size drawings by new gallery
artist Marcus James, taken from studies of Iberian bulls in corrals and from bullfights
in Spain and Southern France.
■ The exhibition also includes a broad range of sculptures, from Nick Bibby's detailed
portrait of pedigree champion 'Rosemead Jeronny' to Deborah van der Beek's
expressive studies of bulls in action, 'Glaring Bull' and 'Charging Bull', and Lynn
Chadwick's archetypal 'Beast IX'.
For further information please contact Sally James or Jane Buck on 01453 889765
The Gallery is open Monday to Friday 10am to 6pm and Saturday 10am to 1pm
GALLERY PANGOLIN
9 CHALFORD IND ESTATE CHALFORD GLOS GL6 8NT
TEL 01453 889765 FAX 01453 889762 EMAIL gallery@pangolin-editions.com
www.gallery-pangolin.com