CROUCH END OPEN STUDIOS 10th Anniversary - Open a 'pdf' of this press release - return to Galleries PR Index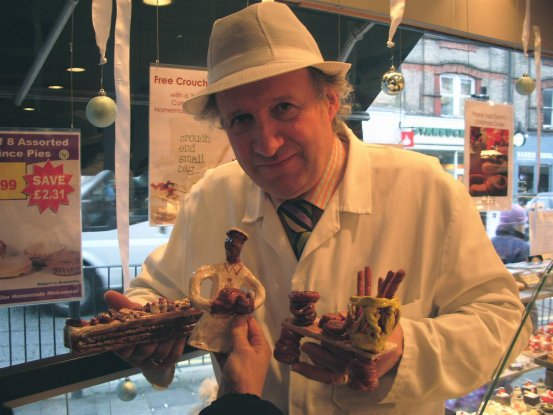 10th Anniversary Crouch End Open Studios 10th Anniversary
Crouch End Open Studios is celebrating 10 years of bringing art and
artists to Crouch End . We are thrilled that in this our anniversary year we
have ten new artists working with us, all bringing exciting new ideas and
extending the range of media. This brings the number of artists
exhibiting this year to 30. This is very exciting as it is the largest number
of artists exhibiting in Open Studios. Our work will include painting,
drawing, photography, printmaking, installation, ceramics and sculpture.
Our artists will open their doors to the public and put on exhibitions of
their work in Crouch End shops, homes and studios all within walking
distance of the Clocktower . This is a great opportunity for everyone to
see work, engage with local artists and buy art work.
Ten of our artists are producing art or objects as portraits of our very
generous sponsors from the last ten years. These artworks will be
exhibited in the Promenade Gallery during the Open Studio weekend.
Local shop keeper ,Chris Freeman owner of Dunn's Bakery , receiving his ceramic
portrait from CEOS artist Jackie Lewis.
A number of our artists have been involved in National Exhibitions since
last year. Martin Davidson and Sue Williams both exhibited in the Royal
Academy Summer Exhibition and Sue was selected for the Jerwood
Drawing Prize. Jane Human has been selected for the prestigious
National Open Art Competition and many of our artists are regular
exhibitors at the Affordable Art Fair, in fact, you could say that the
Crouch End Open Studios is itself an affordable art fair!
CEOS is working for the second year with Action for Kids
www.actionforkids.org . Our involvement with action for kids has been
very exciting for our group who hold workshops for the young artists and
have developed lasting relationships with them.
"Action for Kids is an inspirational disability charity working with
young people to help provide the support and skills they need to help
them gain access to the same opportunities as everyone else. Art helps
many disabled youngsters find a communication outlet which they may
otherwise struggle to have. It's also wonderful for self-confidence and as
you will see we have even uncovered some real budding talent!" Joanna
Read, Director of Life and Work, Action For Kids.
Action for Kids will be showing their work at Oddbins,139-141, Crouch
Hill, N8 9QH during the Open Studio Weekend.
Open Studios Venues open weekend of May 10th and 11th 12.00-6.00pm
Group Show at the Original Gallery in Hornsey Library, afternoons
from May 2nd to 15th from 1.00- 7.00 pm. Closed Bank Holiday
Monday May 5th
Additional Group Show at 'Blend', 587 Green Lanes N8 ORG from the
end of April until 29th May
Attractions this year
Talks in Hornsey Library to coincide with the Group Show:
Tueday May 6th 7.00-8.30 Illustrated talk by David Buckham and Clive
Boutle, authors of "From Bow to Biennale" , this is an exciting new
book about the recently re-discovered East London Group, there will be
opportunities to purchase signed copies . One of our founding artists, Kim
Valdez, is working on an installation inspired by their work. See CEOS
website for more information about this and check out Kim's blog to
track her progress.
Wednesday May 7th 7-8.30 "Strong Room"
A talk by photographer Roelof Bakker and artist Jane Wildgoose on their
book Strong Room based on photographs taken at Hornsey Town Hall