THE GARDEN GALLERYY Summer Exhibition 2014 - Open a 'pdf' of this press release - return to Galleries PR Index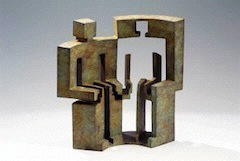 The Garden Gallery
Rookery Lane, Broughton, Stockbridge, Hampshire, SO20 8AZ
Tel: 01794 301144
CONTEMPORARY SCULPTURE, CERAMICS AND FURNITURE
FOR GARDENS AND INTERIORS
SUMMER EXHIBITION 2014 : ECHOES IN THE MEMORY
TOGETHER WITH NEW WORK BY GALLERY ARTISTS
Seated Couple by Johannes von Stumm FRBS (bronze)
This summer at The Garden Gallery new work by regular artists will accompany a special exhibition, Echoes in the Memory.
Inspired by T. S. Eliot's Four Quartets and thoughts of remembrance and commemoration in the centenary year of the
outbreak of WW1, a group of sculptors consider how we cherish memories of past lives and the stories which make our
histories. The exhibition runs from Saturday 10 May (Private View 11- 5) until 19 July, on Thursdays, Fridays and Saturdays
from 11 – 5, or by arrangement. During the Private View there will be an opportunity to 'Meet the Artist'. Several of the
sculptors will be present throughout the day.
The Garden Gallery has been established for 19 years and represents some 50 sculptors, potters and makers. It has acquired a
reputation for exhibiting sculpture, ceramics and furniture of the highest quality for gardens and interiors – homes, offices and yachts -
all by contemporary artists. Sculpture, both abstract and figurative, is offered for sale in bronze, stone, marble, glass, ceramic and
steel. Pots shown at The Garden Gallery are sculptural, hand built and high-fired for gardens, elegant and poised for interiors. Pieces
for gardens are shown in the gallery's lovely garden, interior sculptures and ceramics in the indoor gallery.
The Garden Gallery is an invaluable resource for Garden and Interior Designers and Landscape Architects seeking sculpture,
ceramics and furniture for clients.
The Garden Gallery is open by arrangement at all other times of year. For further information and photographs contact
Rachel Bebb at The Garden Gallery.
Rachel Bebb, MA, FRSA
Garden Designer