ref: bYp Oct 20-Nov 2 2013 BARRY KEENE GALLERY The Autumn Exhibition - Open a 'pdf' of this press release - return to Galleries PR Index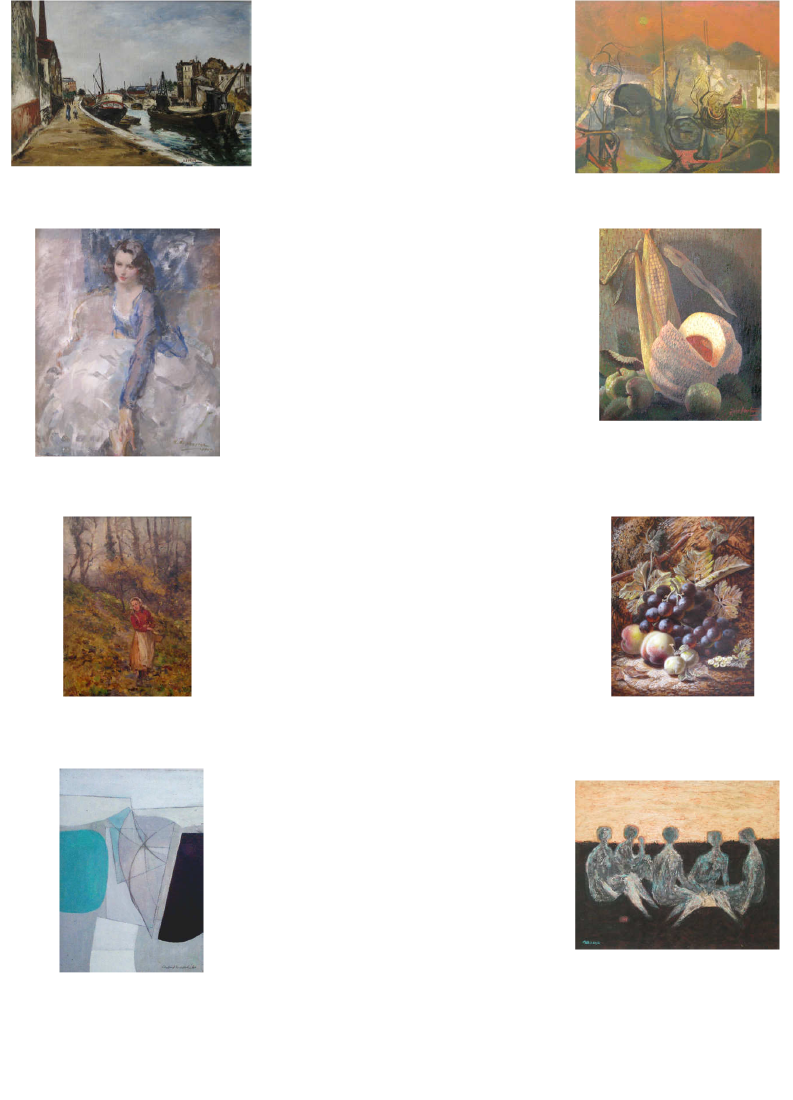 Tom Hutcheson – "Pit Landscape, Lanarkshire"
Oil on canvas. 507 x 610mm.
Signed & dated 1956
John Armstrong A.R.A. (1893-1973)
"The Melon" Oil on Canvas. 356 x 305mm
Signed & dated 1956 No. 537 in the
catalogue raisonne by Andrew Lambirth,
illustrated page 209. Originally exhibited at
Leicester Galleries, London. From the
collection of A.G. Morris Esq.
Oliver Clare (1852 – 1927)
"Still Life with Peaches & Grapes"
Oil on board. 300 x 240mm. Signed.
Marek Zulawski (1908 – 1985) (Polish)
"The Picnic" Oil on canvas.
508 x 610mm. Signed.
THE AUTUMN
EXHIBITION
Paintings, Watercolours
Drawings
Wood Engravings
BARRY KEENE
GALLERY
Opens Sunday 20th October 11 -5.00
(continues Tues. to Sat. 9.30 – 5.30
until Saturday 2nd November)
12 Thameside, Henley-on-Thames, Oxon, RG9 1BH
Tel: 01491 577119
enquiries@barrykeenegallery.co.uk
www.barrykeenegallery.co.uk
(illustrated catalogue & invitation to the
opening available on request)
images and artist's biographies are available
to view on our website from 10th October
www.barrykeenegallery.co.uk
With work by:
Michael Ayrton
Diana Armfield
John Armstrong
Wilfred Ball
Lawrence Biddle
Ann Thetis Blacker
Oliver Clare
Clifford Fishwick
Norman Alexander
William Fowler
Marion Grace Hocken
James Hull
Tom Hutcheson
Leoni Jonleigh
Halina Korn
Benjamin Williams Leader
Marcel Leprin
Monica Poole
Peter Reddick
Ibrahim El De Sougi
Harold Swanwick
Peter Thursby
John Ward
Walter Ernest Webster
Thomas Walter Wilson
Marek Zulawaski
many from studio and private collections
All pictures are offered subject to availability
Marcel Leprin (1891 – 1933) (French) "Paris –
Canal de la Villette" – Oil on Canvas.
381 x 558mm. Signed.
Titled on reverse of stretcher
Walter Ernest Webster R.I., R.O.I., R.P., V.P.R.P.
(1878 – 1959) "Black & Gold". Oil on Canvas. 610 x
508mm. Signed & dated 1947. Bears labels for Atkinson
Art Gallery Southport & Royal Society of Portrait Painters
Harold Swanwick R.I. R.O.I. (1866 – 1929)
"Returning from Market".Oil on canvas
over board. 305 x 203mm.
From the Artist's studio collection
Clifford Fishwick (1923 –1997)
"Glacier Pressure". Oil on wood.
406 x 297mm.
Signed and dated '60 (1960).
From the Artist's Studio Collection