ref: bXp Until Nov 3 2013 bo.lee gallery Bobbie Russon - Open a 'pdf' of this press release - return to Galleries PR Index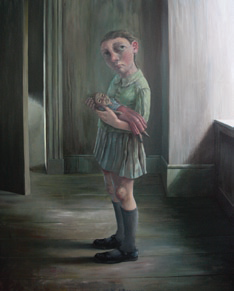 I
SOL LOQUY
A solo show by Bobbie Russon
29 Oct - 3 Nov | Open 11-5.30 Tues-Sat (12-4 on Sunday)
Pri vat e Vi ew: Tuesday 29 Oct ober 6-9pm ( RSVP)
20 Clerkenwell Green, EC1R 0DP (nearest tube: Farringdon)
The long awaited debut London solo
show from Bobbie Russon will feature
new works from this much coveted
artist. Large scale oil paintings will sit
alongside a new series of wood block
paintings.
Bobbie Russon's paintings speak to the
quiet, contemplative and solitary place
in all of us, usually featuring lone girls in
a paradoxical moment of adolescence,
caught between the needs of a child
and the wants of an adult. More as a
metaphor for humanity than a literal
interpretation. The girls can seem both
victim and perpetrator, vulnerable and
strong. Russon's work speaks to us on
an emotional level, a whisper rather
than a cry, it gives us time to stand still,
time to reflect in what it means to be
human.
"Ultimately Bobbie Russon is a painter of unusual beauties and harmonies. This
unfurling body of work is not just about privations and heartache, it is filled with
humour and joy. Writing a profile of an artist can be like a séance. It takes
courage to be uncompromisingly revelatory and Russon's paintings bring us as
near to being inside an artist's head as can be." Jane Hill
Bobbie Russon trained at the Royal College of Art and St Martin's. was born in
Birmingham in 1966, and currently lives and works in South West London.
Russon's somber yet beautiful paintings expose an inherently ambiguous,
complex nature of society's growing fears about the loss of childhood innocence.
They are very English with their grey tones reflecting an outward unemotional
nature.
"My work comes from a deep, dark, quiet place in me and hopefully speaks to
that place in others," she says. "If I can evoke a memory or emotion in a stranger
by my own personal interpretation of a shared, but private experience, without
having to use words then I feel I am succeeding"
Bobbie Russon is soley represented by bo.lee gallery in the UK and Abroad. Her
paintings are held in private collections globally and she is fast becoming a very
sought after artist.
for further details please contact Jemma on jemma@bo-lee.co.uk | 07970492858