ref: bGp Nov 5-20 2013 MORLEY GALLERY London Potters' Open Exhibition - Open a 'pdf' of this press release - return to Galleries PR Index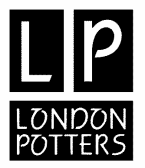 Press Release
London Potters Annual Members' Exhibition
Morley Gallery
The London Potters exhibition at the Morley Gallery celebrates clay in all its
forms and functions. Showcasing the work of 90 members, this yearly show
features a wide spectrum of ceramics from both new and well-known artists,
ranging from traditional to contemporary designs, from humorous to edgy
sculptural pieces, creating a vibrant and exciting exhibition. This is the show
to visit and be inspired and to invest in new and established talents.
All pieces are for sale at very accessible prices.
For further information and images contact Gioilla Zordan
T: 020 8995 9005
E: zordangioilla@gmail.com
www.londonpotters.com
Venue
Morley Gallery
61 Westminster Bridge Road
London SE1 7HT
T: 020 7450 1826
E: gallery@morleycollege.ac.uk
Exhibition Open
5-20 November 2013
Private View: Monday 4 November 6-8pm
Monday: 12 noon-6pm
Tuesday and Friday: 11am-6pm
Wednesday and Thursday: 11am-7pm
Saturday: 12 noon-4pm
Registered Charity No 1086355