ref: k8p Feb 7-23 2013 THE RUSSELL GALLERY William Selby RWS NEAC RBA ROI - Open a 'pdf' of this press release - return to Galleries PR Index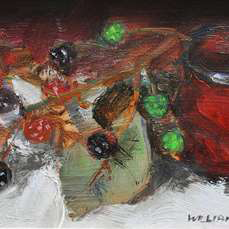 William Selby is one of Britain'
William Selby RWS, NEAC, RBA, ROI
first One-Man show at The Russell Gallery, Putney
7- 23 February
s leading colourists: he is from Yorkshire from
a Mining family. Self taught, he has the most wonderful sense of design.
The still life paintings are built up in layers, the flowers and bottles and
plates seem to" float" in the paintings. His distinctive landscapes of his
Native Yorkshire are abstracted fields,full of colour.
He is in collections throughout the world and has won numerous
awards . William paints in oils, acrylic and mixed media. A member
of the Royal Watercolour Society, the New English Arts Club, Royal
Society of British Artists and the Royal Society of Oil Painters.
Paintings : Berries 16 cm x 27 cm oil on board. Black Feather,
66cm x 77 cm mixed media and Blue Box 20 cm x 26 cm.
Press Release for William
Selby Show at The
Russsell Gallery
VIEW SLIDE SHOW DOWNLOAD ALL
This album has 3 photos and will be available on SkyDrive until 22/03/2013.