ref: j3p Feb 18-Mar 28 2013 ATKINSON GALLERY MA & Other Postgraduates 2013 - Open a 'pdf' of this press release - return to Galleries PR Index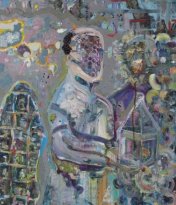 Press Release
MA & Other Post Graduates 2013
Atkinson Gallery, Millfield
18 February – 28 March
Private View: Monday 18 February, 7-9pm
The Bird Keeper, Peter Daviz
Proudly maintaining its ethos of promoting the next generation of artists, the Atkinson Gallery
presents the annual MA & Other Post Graduates contemporary art show. Showcasing the work of
students who express particularly fresh, innovative ideas, the exhibition reflects the talent and wide
range of work being produced in art schools today.
Last year's well-received MA & Other Postgraduates 2012 exhibition saw London schools featuring
strongly with an impressive array of styles on display. The Slade's Zoe Schoenherr's installation,
Poetics of the Habitual Pattern, triumphed with its wood, string and bold blue acrylic spilling from
the wall onto the Gallery floor creating intricate linear perspectives. Adeline de Monseignat from
City & Guilds was selected for her intriguing giant fur balls encased in glass, Hairy Eye Ball 2,
Morphing and Peaking Knee, and the wonderful photograph Red Plastic Bag by Hyunmin Ryu proved
an excellent choice for the exhibition artwork and made the cover of the regional arts magazine,
Evolver.
This year's MA & Other Post Graduates show promises to be just as exciting with artists having been
selected from 13 of the top art universities around the country and invited to exhibit their work at
the Gallery. A celebration of contemporary art, this exhibition provides the public with a unique
opportunity to see current work in painting, photography, printmaking and sculpture.
Art Schools participating:
Aberystwyth University Brighton University Camberwell
Chelsea City & Guilds, London University College Falmouth
University of Gloucestershire UCLAN (Lancashire) Newcastle University
Northumbria University Portsmouth Royal College of Art
Slade School of Fine Art
FURTHER INFORMATION ON THE EXHIBITION CAN BE OBTAINED FROM:
Atkinsongallery@millfieldschool.com
t. 01458 444322