ref: h1q May 10-30 2012 CURWEN & NEW ACADEMY GALLERY Lucy Willis RWA - Open a 'pdf' of this press release - return to Galleries PR Index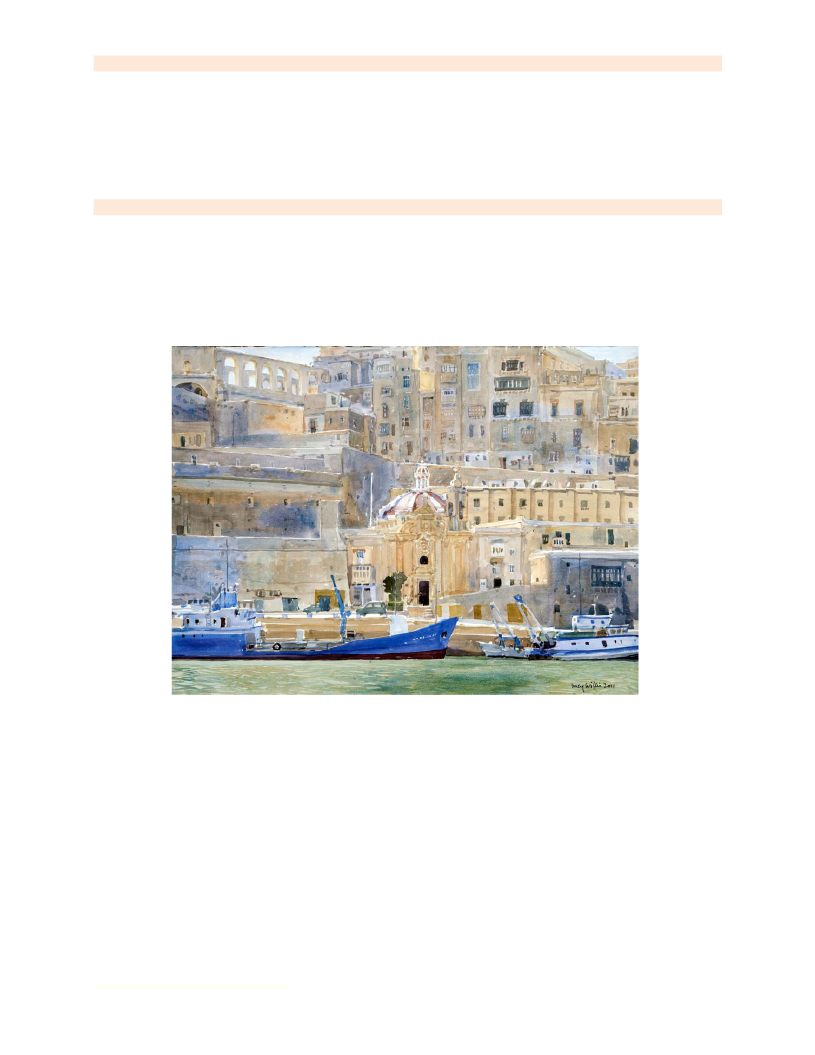 Lucy Willis RWA
Cities of Stone
10th – 30th May 2012, Private View 9th May , 6‐8pm
Artist talk 19th May 2pm
Curwen Gallery will be showing a collection of watercolours produced by Lucy Willis during
two recent painting expeditions: one to Malta in 2011 and the other to Syria in 2010.
1
Malta & Gozo in the footsteps of her grandfather H M Bateman
This show is timed to coincide with two major exhibitions celebrating the artistic legacy of Lucy
Willis's late grandfather, HM Bateman. Well known as a cartoonist he was virtually unknown, until
now, as a painter. In May 2011 Willis traveled to the islands of Malta and Gozo where Bateman had
painted until his death in 1970. Using Bateman's paintings as a guide, she was able to retrace his
footsteps, finding inspiration for her own work there amongst the lovely villages of Gozo and
magnificent harbours and ramparts of Malta.
In the capital, Valletta, Bateman's work is considered a precious record of a bygone era on the
islands. Willis's stunning new watercolours enhance and up‐date this record; her much loved and
distinctive response to light, to the play of shadow on buildings, to the interplay between sea and
sky, all powerfully evident. These paintings are a wonderful homage to her grandfather, to Malta,
its' countryside and people.
1
Lucy Willis, The City of Stone, Valletta, Malta, watercolour on paper, 57 x 76cm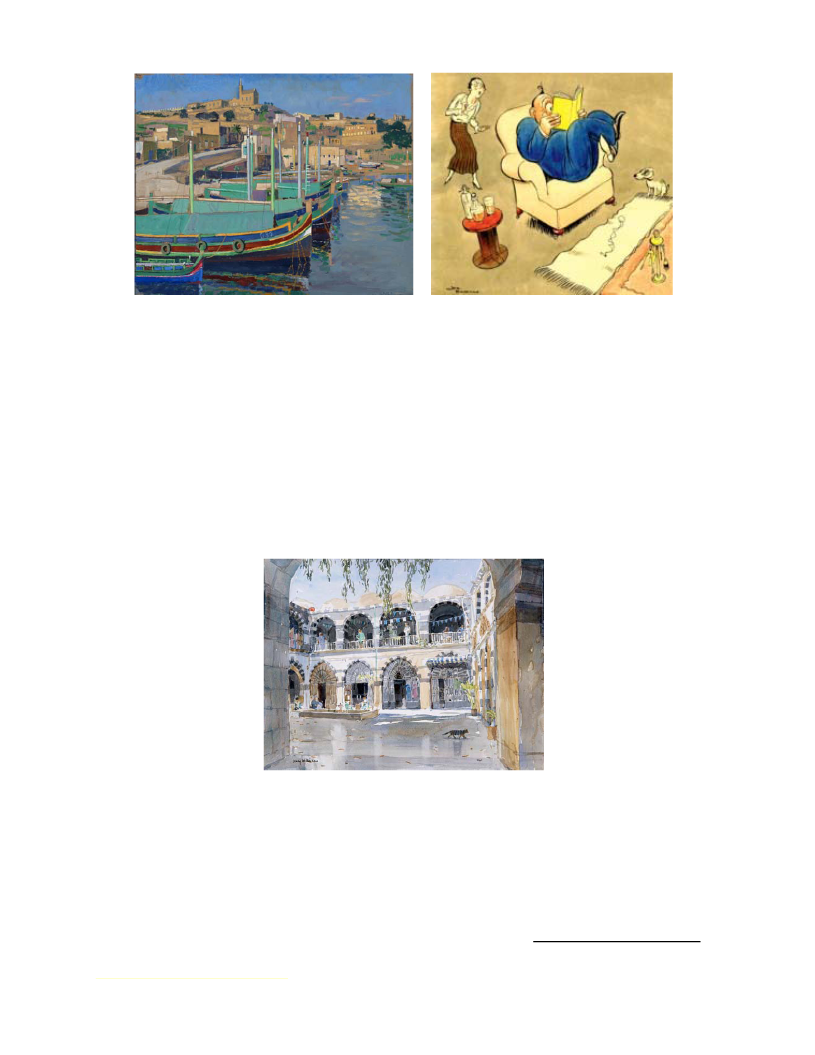 3
2
Just around the corner from Lucy Willis's exhibition at Curwen Gallery a major retrospective of HM
Bateman's comic drawings ‐ 'The Man Who Went Mad on Paper' ‐ can be seen at the Cartoon
Museum. Equally near‐by, his oil paintings are being shown at Abbot and Holder: 'H M Bateman,
The Malta Years'
Syria in quieter times
Willis's other expedition was to Syria, just a year before the outbreak of the current up‐rising. Her
paintings, also on show at Curwen Gallery, capture the beauty of this now troubled country. It
remains to be seen how much has been lost ‐ the architecture, landscape, quiet backstreets and
mosques ‐ which Willis has captured with such sensitivity and intensity. Her watercolours
celebrate the heritage and serenity of a special, ancient land – something we may sadly not see
again for some time.
4
Lucy Willis trained at the Ruskin School of Drawing and Fine Art in Oxford. Since then has traveled
widely to find inspiration for her work. She has tutored painting groups in many countries across
the world and has written three books on painting technique. Continuously represented by a
London gallery since 1986, exhibitions include numerous solo and group exhibitions across the UK.
She won the BP Portrait Award in 1992 and was elected a member of the Royal West of England
Academy in 1993.
If you would like further information contact Robin Spalding by email robin@curwengallery.com
or tel. 020 7323 4700
H M Bateman, Mgarr Fishing Boats, Gozo, oil on paper, 40 x 51 cm
H M Bateman, The Banned Book, image courtesy of The Cartoon Museum
Lucy Willis, Caravanserai of the Olives, Damascus, watercolour on paper, 45 x 60 cm
2
3
4 Further Information
This year sees the 125th anniversary of the birth of the cartoonist H.M.Bateman. He spent the last
five years of his life painting on Malta and Gozo. To celebrate his life and work there will be three
London exhibitions close by the British Museum
Lucy Willis : Cities of Stone
Lucy Willis's paintings of Malta, Gozo and Syria in quieter times, Malta & Gozo in the footsteps of
her grandfather H.M.Bateman,
Curwen & New Academy Gallery, 34 Windmill St, London W1T 2JR
Tel: 020 73234700 Email: gallery@curwengallery.com
Private View May 9th 6‐8 pm, exhibition open from May 10th‐ 30th 2012
Lucy Willis will be talking about her work at the gallery on Saturday 19th May at 2 pm
www.curwengallery.com, www.lucywillis.com
H. M. Bateman: The Malta Years
Bateman's oil paintings of Malta and Gozo
Abbott and Holder, 30 Museum St, London WC1A 1LH
Tel: 020 7631 0575 Email: gallery@abbottandholder.co.uk
Private view May 10th 6‐8pm , exhibition open from May 11th ‐ May 31st 2012
www.abbottandholder.co.uk
H M Bateman: The Man Who Went Mad on Paper
A major retrospective exhibition of cartoons.
The Cartoon Museum, 35 Little Russell St, London WC1A 2HH
Tel: 020 7580 8155 Email: thecartoonmuseum@btconnect.com
April 11th – July 22nd 2012
www.thecartoonmuseum.org.uk www.hmbateman.com