ref: fLq Jul 10-15 2012 THE GALLERY IN REDCHURCH STREET Manchester to London - Open a 'pdf' of this press release - return to Galleries PR Index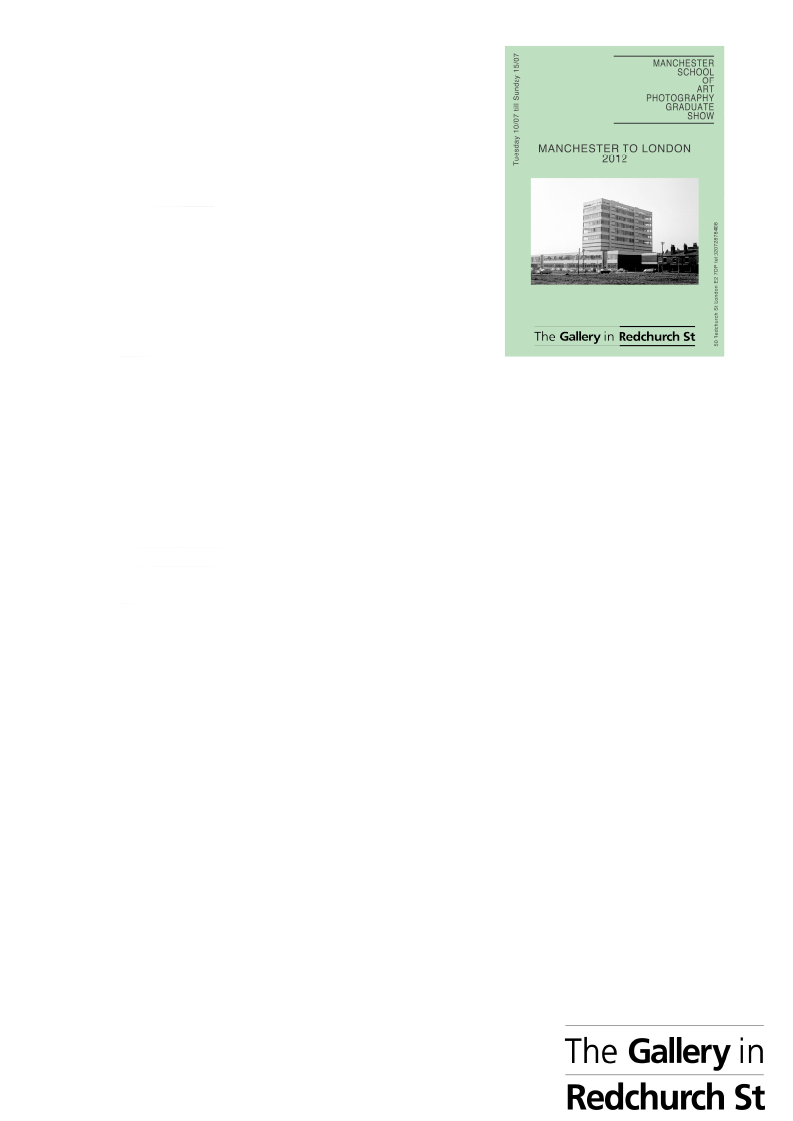 Press Release
Manchester to London
Tuesday 10th July – Sunday 15th July
Preview night Tuesday 10th July 6 9pm
Opening times:
Tuesday Saturday 10am 6pm
Sunday 11am 4pm
The gallery in Redchurch Street
50 Redchurch Street
London, E2 7DP,
United Kingdom
020 7287 8408
Exhibition website: www.mcr2ldn.co.uk
Exhibition Email: mmu.photography2012@gmail.com
Artists:
Hollie Myles, Sophie Stafford, Matthew Williams, Martyn Green, Josh rothery,
Luke Sampson, Emma Lindsay, Isabel Taylor, Alice De Saulles, Alex Marrs, Martin
Wilson, Will Sharp, Hannah Radford, Chloe Fettes, Sara Philbin, Theo Merrington,
Joel Peck, Alejandra Angel, Rosie Butcher, Richard Smillie, Stephanie Parnell,
John Tyler, John Merril and Jamie Martin.
2012 will see Manchester School of Art's latest photography alumni take their
current eclectic collection of final year pieces to London for a one week
exhibition. This will be the first time this course has exhibited in the South.
The exhibition Manchester to London will host a vast collection from 25 artists
whose work spans through various themes, exploring portraiture, still life,
architecture, documentary and fashion.