ref: dLq Aug 24-Sep 15 2012 BRITISH GLASS BIENNALE contemporary glass - Open a 'pdf' of this press release - return to Galleries PR Index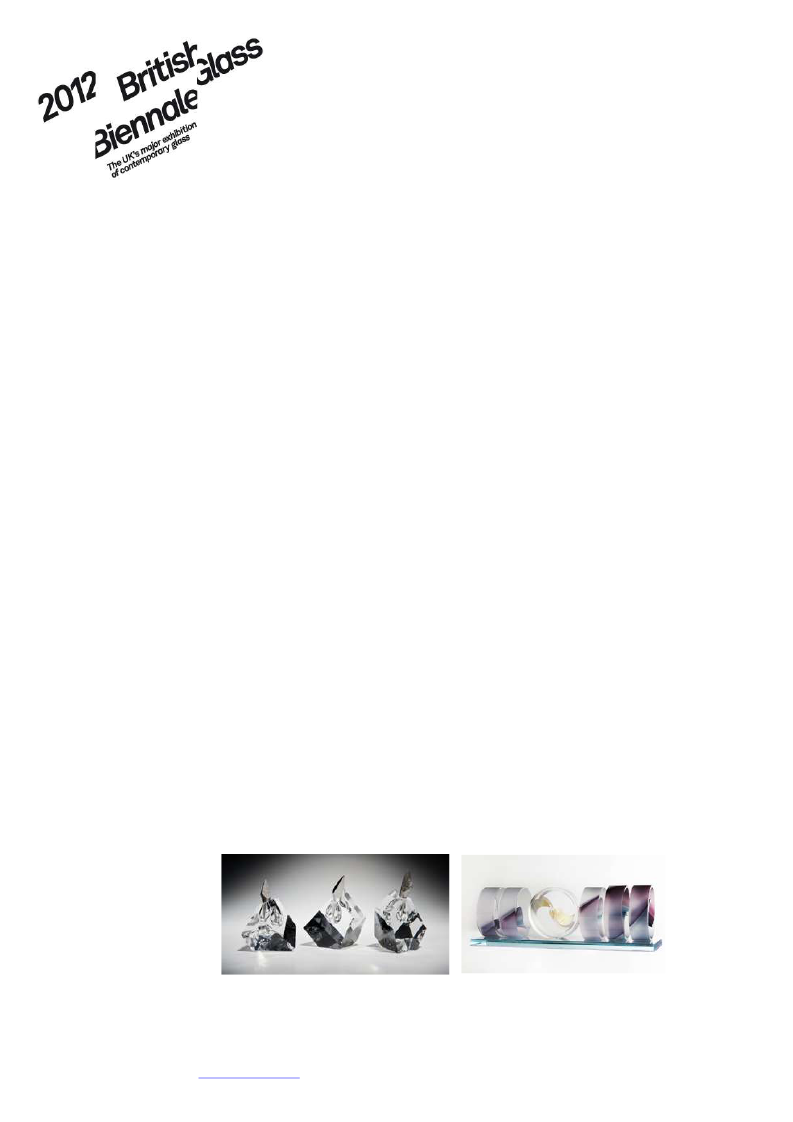 The UK's major exhibition of contemporary glass announces its
exhibitors for 2012
71 artists will exhibit at the fifth British Glass Biennale which takes place in
Stourbridge from 24 August to 15 September 2012. The exhibition will be in the
newly refurbished industrial space, formerly the Webb Corbett/Royal Doulton
Glass factory, opening in August as a vibrant new Arts Centre.
With a record 209 applicants and over 1200 images to look through, selections
were a challenging task for the esteemed jury. Across two days 100 pieces by
70 artists were selected and along with a piece by juror Catherine Hough, the
British Glass Biennale 2012 looks set to be an exciting showcase of the
current trends and techniques emerging within the UK glass scene.
2012 sees a worldwide celebration of 50 years of studio glassmaking and
events will take place across the globe. The International Festival of Glass, of
which the British Glass Biennale is a part, will be the centre for the UK's
celebrations. With exciting work by new and emerging makers, such as Shelley
Doolan and James Lethbridge, being exhibited alongside highly collected
makers such as Katharine Coleman, Colin Reid and Bruno Romanelli, the
British Glass Biennale will offer a strong statement about the UK's ongoing
contribution to glassmaking worldwide.
This year's jury felt particularly delighted by the strength of the student
applications. While five pieces are guaranteed a place in the exhibition each
year, the jury were able only to narrow the selection down to an impressive 13
pieces made by 9 artists. Chair of the jury James Beighton commented,
"We are very excited to have been able to put together this exhibition which
reflects the diversity and quality to be seen in British glass today. Each of the
judges had particular favourites but in particular would like to highlight the
consistently high standard of student work presented which suggests an
exciting future for glassmaking in this country."
Michelle Keeling, Exhibition Curator, commented that "the British Glass
Biennale offers a chance to track the careers of artists who are repeatedly
selected each two years and with such strong new makers being selected, it is
certainly an exhibition for enthusiasts to spot the 'ones to watch' for the future.
With over £10,000 to be awarded, the exhibition can offer artists an exciting
cha
Ends
British Glass Biennale
Ruskin Glass Centre, Stourbridge
West Midlands, DY8 4HF
07966 425 904
info@biennale.org.uk
www.biennale.org.uk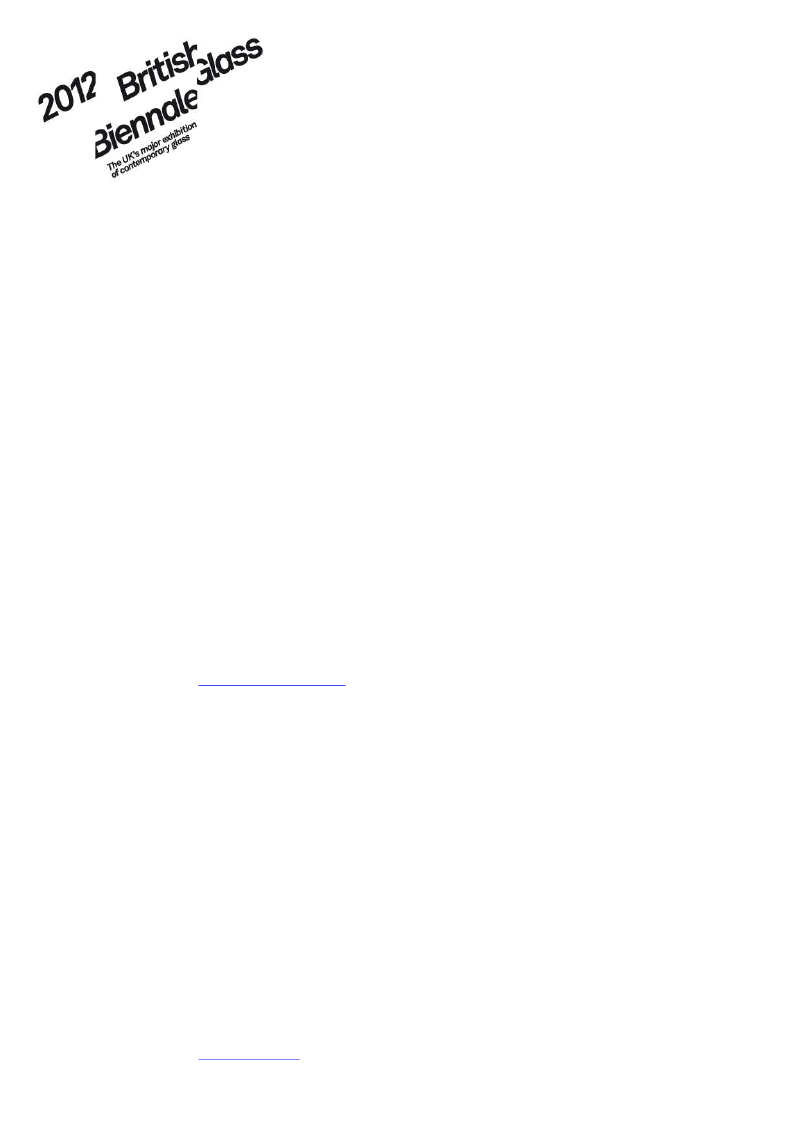 Contact Information
For further PRESS information, hi-res versions of all images and full credits,
please contact Michelle Keeling on 07966 425 904 or email
info@biennale.org.uk
Editor's Notes
Exhibition dates: 24 August to 15 September 2012
Winners will be announced at the Private View and Awards Ceremony on 23
August 2012
The British Glass Biennale is delighted to be working once again in
association with the Worshipful Company of Glass Sellers who will be
awarding £7,500 in prize money. Private collector of British glass, Mark Holford
has also donated £3000 for the 'British Glass Biennale Award for Best in Show'.
An expert panel has judged the submissions, comprising:
Clare Beck, Director of Contemporary, Adrian Sassoon, London
James Beighton, Senior Curator, Middlesborough Institute of Modern Art
Régis Cochefert, Head of Arts, Paul Hamlyn Foundation
Catherine Hough, Glass Artist
Amelia Thorpe, Design & Interiors Journalist
The British Glass Biennale will be the inaugural exhibition in the newly-
converted Ruskin Arts Centre, The Glasshouse, Wollaston Road, Amblecote,
Stourbridge, West Midlands, DY8 4HE. For more information, visit
www.biennale.org.uk
The International Festival of Glass is an umbrella term to describe a
comprehensive programme of events at venues across Stourbridge Glass
Quarter that includes Glass Masterclasses (20 to 23 August), the prestigious
British Glass Biennale (24 August to 15 September), and a four day Glass
Festival (24 to 27 August). Although the exhibition is free, entry to the Ruskin
Glass Centre over the Glass Festival weekend costs £5 (£1 for children) per
day or £14.50 for a four day Festival pass and includes numerous
demonstrations, exhibitions, 'have a go' sessions and of course, plenty of retail
opportunities.
The West Midlands town of Stourbridge has the richest of glass making
traditions and is widely regarded as 'the home of glass making'.
Images: Left - Record Keepers by Anthony Scala. Photo credit, Ester Segarra
Right – Thoughts Interrupted by Phil Vickery. Photo credit, Jo Howell
Photography
British Glass Biennale
Ruskin Glass Centre, Stourbridge
West Midlands, DY8 4HF
07966 425 904
info@biennale.org.uk
www.biennale.org.uk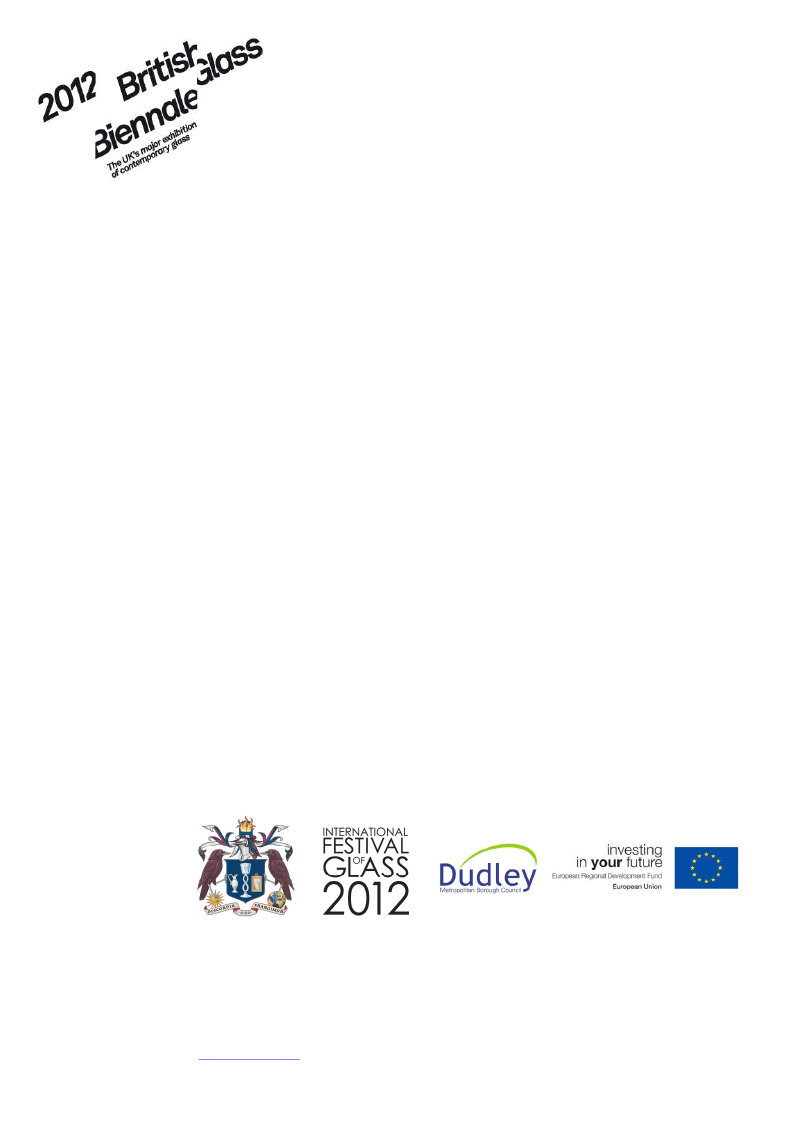 Kate Jones & Stephen Gillies
Tanya Gregory*
Rhian Haf
Joseph Harrington
Matthew Hayes*
Siobhan Healy
Crispian Heath
Vicky Higginson*
Katy Holford
Alan Horsley*
Catherine Hough**
Richard Jackson
James Lethbridge
Ruth Lyne
Allister Malcolm
Julia Malle
James Maskrey
Caroline Moiret
June Morrison
Graham Muir
Tracy Nicholls
Yi Peng
Emma Rawson*
Lujain Razouki
Liam Reeves
Exhibiting Artists
Natalie Aird
Stuart Akroyd
Kirsteen Aubrey
Laura Birdsall
Sarah Blood
Heike Brachlow
Sabrina Cant
Louise Cloke*
Katharine Coleman
Jaqueline Cooley
Mo Costalas
Bob Crooks
Jeremy Doar*
Shelley Doolan
Katharine Dowson
Junko Eager
Shirley Eccles
Simon Eccles
Fiaz Elson
Sally Fawkes
Jackson Fawkes
Frances Federer
Sara Fell
Carrie Fertig
Catherine Forsyth
British Glass Biennale
Ruskin Glass Centre, Stourbridge
West Midlands, DY8 4HF
07966 425 904
info@biennale.org.uk
www.biennale.org.uk
Colin Reid
Bruno Romanelli
Karmen Saat*
Deborah Sandersley
Anthony Scala
Victoria Scholes
Cathryn Shilling
Jessica Irena Smith
Robyn Smith
Andrea Spencer
Wayne Stevens
Vicky Stewart*
Ayako Tani
Louis Thompson
Deborah Timperley
Phil Vickery
Andrea Walsh
Liz Waugh McManus
Kathryn Wightman
Sue Woolhouse
Marie Worre Hastrup Holm
* Student Entries
** Invited Juror