ref: eIq Aug 6-18 2012 ZHEN SHAN REN ARTS The Art of Zhen Shan Ren - Open a 'pdf' of this press release - return to Galleries PR Index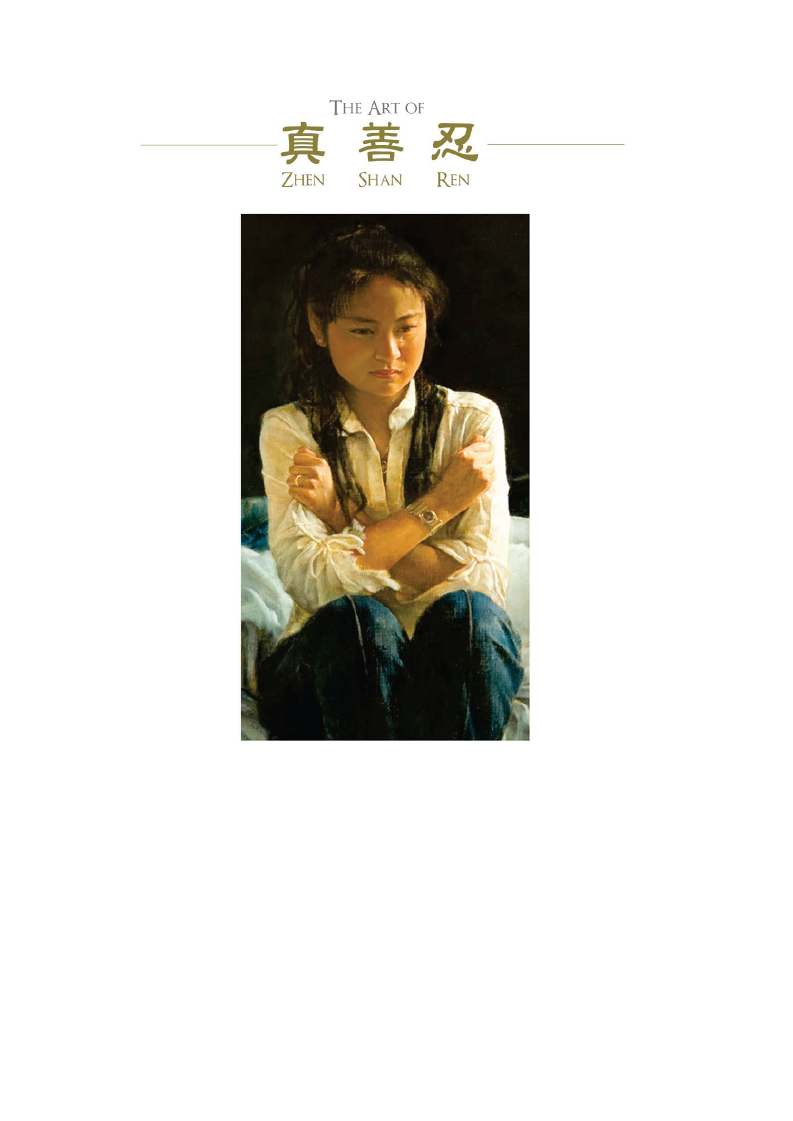 30/06/12
PRESS RELEASE
International Art Exhibition
6th – 18th Aug 2012
10am 7pm daily
Except: Mon 6th Aug 10am 5pm
Sat 18th Aug 10am 4pm
La Galleria Pall Mall
30 Royal Opera Arcade
London
SW1Y 4UY
Private View:
Monday 6th August 5 – 9pm
1

The Art of Zhen, Shan, Ren International Art Exhibition is an extraordinarily moving,
intimate and inspiring exhibition detailing both an inner spiritual life and an outer
human rights tragedy.
Realistic oil paintings and Chinese watercolours from mostly Chinese artists give a
unique insight into the spiritual discipline Falun Gong.
Falun Gong, a form of meditative exercise originating in China, is based on the principles
of truth, compassion and tolerance. Part of the exhibition is dedicated to showing how
the practice of Falun Gong has changed people's lives, providing them with a return to
traditional Chinese values.
On July 20th 1999 Falun Gong was banned in China, and since that date 13 years ago
many thousands of practitioners have been tortured in an effort to "transform" them.
Part of the exhibition deals with the terrifying ordeals people – including the artists
themselves – have gone through.
Professor Zhang Kunlun, founder of the exhibition and former Director of the Institute of
Sculpture at the Institute of Art in Shandong, himself a practitioner of Falun Gong, said:
"Our art comes from a pure heart and our work reflects our personal experience. Art is
able to greatly influence the way people think and it also directly connects with human
morality. And the two interact."
Dr Zhang was detained for three months in a labour camp in China. In 2004, he started
to work with other artists who practise Falun Gong to create this exhibition. United by
their experiences, the artists use their art to tell their stories, speak out and call for an
end to the persecution of Falun Gong in China.
Eddie Aitken, promoter of the exhibition in the UK, said: "These paintings express both
the inner life of a Falun Gong practitioner and the shocking human rights tragedy that is
currently unfolding in China. Our exhibition is a rare opportunity to see the art that has
moved and inspired so many people around the world."
The paintings show the steadfast spirit of those who remain compassionate and tolerant
under such harsh persecution. The story portrayed is one of beauty, courage, and justice.
And the message is one of hope and triumph.
Entry to the exhibition is free. For further press information contact Zek and Misha Halu
on zekandmisha@talktalk.net or 020 8699 2066 / 07591 716 557.
Notes to editors
For more information see www.zsr art.org.uk.
The artists featured are: Xiaoping Chen, Dr Xiqiang Dong, Tingyin Shi, Zhengping Chen, Kathleen Gillis, Yuan Li, Daci
Shen, Ruizhen Gu and Dr Kunlun Zhang.
The exhibition is presented in conjunction with the Falun Dafa Association (UK).
Since 2004, the exhibition has toured over 200 cities in 40 countries in Europe, the Americas, Asia and Australia. In
that time, the exhibition has received numerous proclamations and letters of support from various government
offices and other organisations.
The first exhibition in Europe was in Geneva in March 2005 and by December 2009 some 147 exhibitions took place
in 25 European countries. In the UK there have been exhibitions in London, Birmingham, Brighton Marina,
Cambridge, Newcastle, Chichester, Reading, Plymouth, Edinburgh, Glasgow, Dundee and Aberdeen.
2
Biographies of selected artists
Kunlun Zhang
A prisoner of conscience in China in 2001, Kunlun Zhang is one of contemporary China's
most accomplished sculptors. Zhang is a graduate of the Sculpture Department of the Art
Institute of China, and alongside sculpture he specialises in oil painting and Chinese
painting. Zhang has served as Director of the Sculpture Institute of the Shandong Art
Institute, as well as Director of its Sculpture Research Institute. Zhang has exhibited in
China and worldwide and has received many awards. He is listed in 'Who's Who in the
World', 'The Encyclopaedia of Outstanding Chinese', 'Collected Works of the World's
Sculpture' and other publications.
Xiaoping Chen
Born in China, Michelle Xiaoping Chen is an accomplished painter and has lived in
Canada for the last several years. She studied watercolour and ceramics at the University
of Mariana and has shown her work in private exhibitions. Her work has been
reproduced in a variety of media, including in art calendars, book illustrations and book
covers. Having received many awards in China, in 1998 Chen was named as
"Outstanding Artist" by the governor of the Commonwealth of the Northern Mariana
Islands. Chen was the Gold prize winner of the NTDTV Chinese International Figure
Painting Competition in 2009.
Xiqiang Dong
Xiqiang Dong is an accomplished painter with degrees from the Tianjin Academy of Fine
Arts and the Central Academy of Fine Arts in Beijing. Formerly Professor and the
resident artist at the Tianjin Academy of Fine Arts he was also an artist at China's
Central Institute of Fine Art. Dong has received many awards for his work, winning the
highest honours at the prestigious National Arts Gallery in China in 1993.
3