ref: h6r May 25 2011 ASC ARTISTS' STUDIOS Help the Sun Rise Again - Open a 'pdf' of this press release - return to Galleries PR Index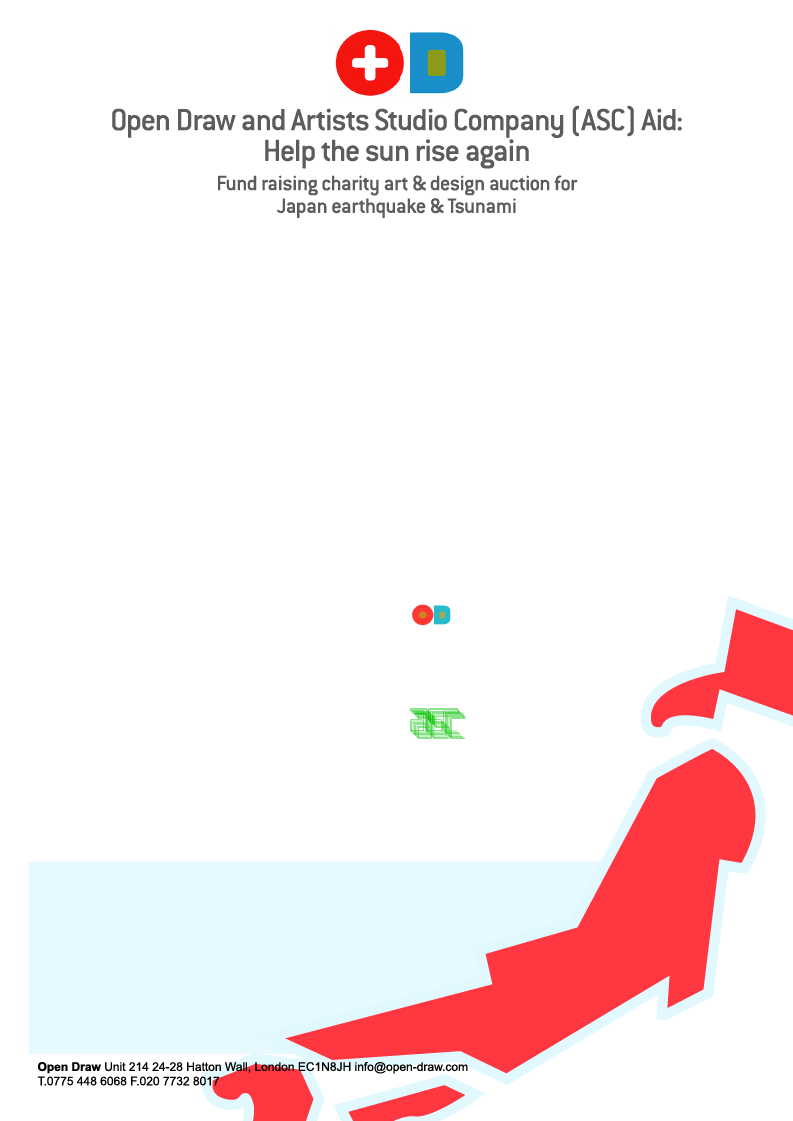 The Auction
Wednesday 25 May at 6:30 – 9 :30 PM
Venue: ASC Artists' Studio Company
128 Blackfriars Road London SE1
http://www.ascstudios.co.uk/
Telephone bids are available.
Please email us to register.
How to buy tickets for the Auction:
£15 entrance fee in advance or £20 at the door will
include an entry to the party and complementary nib-
bles and drinks.
Tickets can be purchased in advance from
http://opendraw.eventbrite.com
All major credit cards accepted.
Viewing
Viewing: 24 May 9:30 AM - 7:30 PM and
25 May 9:30 AM - 6:30 PM
Viewing online, please visit Facebook page:
http://www.facebook.com/pages/Open-
Draw/195581360481403
"Serve the wise who have wisdom, serve the power who have power, serve the
money who have money, people who don't have anything to give, show your
cheer. " (Chiharu Matsuyama - Japanese singer, songwriter)
Following the devastating earthquake, tsunami and nuclear disaster in Japan, Open Draw and ASC have partnered
to raise funds for the crisis. We would like to invite you to our special auction to raise desperately needed funds to
help those affected.
This auction offers a great opportunity to buy artwork without paying a gallery commission and with the knowledge
that in most cases 100% of the purchase cost will go directly to aid the crisis in Japan.
Japan is a very beautiful country and we trust they will recover quickly from this massive
devastation with the help of your kind contribution.
After Auction Garden Party
Wednesday 25 May from 8:00 until late
Venue: ASC Artists' Studio Company
( weather permitting otherwise nearby venue )
The money raised will go to:
Japan Platform
http://www.japanplatform.org/top.html
Just Giving Open Draw Aid 'Japan Earthquake &
Tsunami Fund'
http://www.justgiving.com/Open-Draw
OPEN DRAW is the online gallery founded in February 2010
featuring limited edition prints, photography, sketches and sculpture
and preparatory work. Open Draw makes art more accessible leading
to a connection between artists, designers and collectors.
ASC is a registered charity that exists to support artists,
charity registration number 1045067, company
registration number 3011540, registered office
126 Erlang House, Blackfriars Road, London
SE1 8QS, tel 020 7274 7474, incorporated in
England and Wales, email info@ascstudios.
co.uk, www.ascstudios.co.uk
Participating Artists:
Andy Harper, Ann-Marie James, Myka Baum, Sigrid Holmwood, Jake Tilson, Jennifer Lee, Bruce MacLean,
Antoni and Alison, Karen David, Sara Kate Wilson, Bob and Roberta Smith, Julie Verhoeven,
Tom Price, Tomoko Yoneda, Danny Flynn & Eri Funazaki, Darren O'Brien, Flora MacLean,
Miho Sato, Jessica Voosander, Juan Bolivar, Katherine Lubar, Kim Jenkins, Clare Petherick
Kyoko Wainai, Natasha Bailey, Rosemary Hudson, Saki Satom, Yukako Shibata,
Thomas Haywood, Frank Fischer, Junko Otake, Ittirawee Chotirawee, Derek Ridgers,
Ross Chisham, Alexander James, Alex Blaggaley, Leon Woolls,
Simon Taylor, Christina Niederberger, Rufus Knight-Webb,
Mariana Gordan, Michael Marriott,
more to come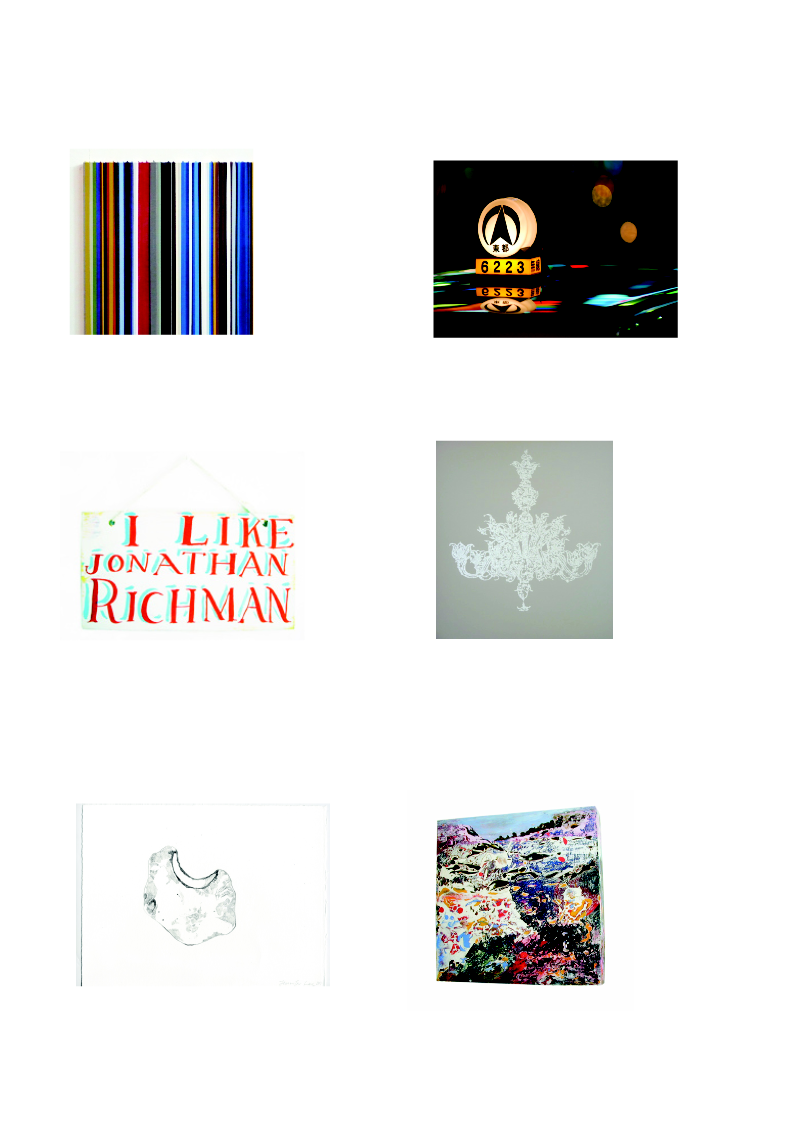 Highlights from the auction:
To preview all the artworks : go Facebook Open Draw page
http://www.facebook.com/pages/Open-Draw/195581360481403#!/pages/OpenDraw/19558136
0481403?sk=app_135607783795
Frank Fischer,
Alexander James, 'Touto -Taxi Series', original
'Flowers Superflat II by Takashi Murakami'
artists proofs R-Type Print mounted to DiBond
gloss paint on boxed aluminum stretcher,
75x50cms estimated at £750.
62x62 cm, estimated at £2,000
Bob and Roberta Smith,
Christina Niederberger, 'Chandelier'
' I Like Jonathan Richman'
Screenprint and light reflecting glass beads on paper,
veneer, acrylic, linen and string, 17x35 cm,
Edition of 150; print donated is nr. 61/150 unframed
estimated at £100~150
46x35cm; framed 52x42cm
estimated at : £360
Jennifer Lee, 'Flint'
Ittirawee Chotirawee, 'Dig Up' ,
medium: drawing on paper
acrylic on board
size: 21.5 x 28 cm framed
30 x 30 x 4.5,
estimated at £100~200
estimated at £400