ref: fLr Jun 15-Jul 15 2011 PYMS GALLERY Rita Duffy - Open a 'pdf' of this press release - return to Galleries PR Index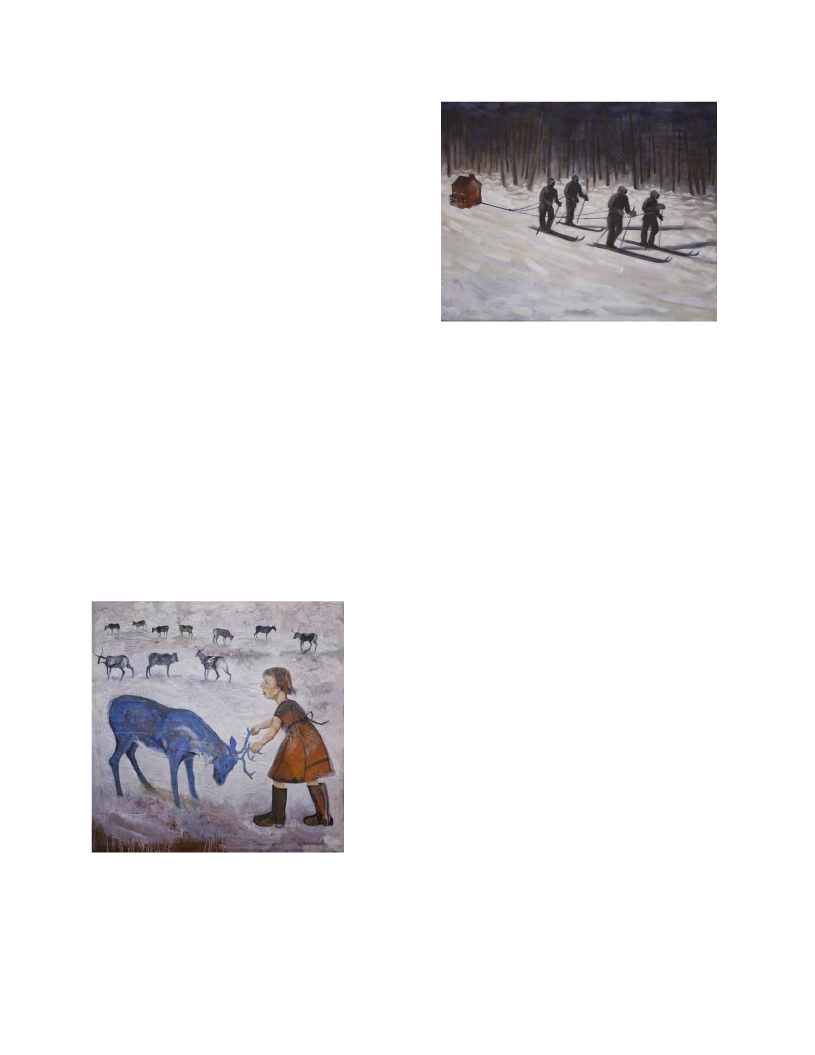 FOR IMMEDIATE PRESS RELEASE
Severance
Rita Duffy
15th June to 15th July 2011
Rita Duffy's 'Severance' exhibition at Pyms Gallery arrives in the wake of a compelling
fascination with the 'Nordic Noir'. Films, novels and TV crime drama set in the menacing
Scandinavian landscape have captured the public imagination.
Duffy's short residency in Tromsø, Norway's most northerly city, takes us to the edges of the tundra
where reason sleeps, autobiography is laced with fairy tale, and deers, hares, birds and bears emerge from
the forest to menace strangely stunted figures.
The Belfast painter who began her career as a Feminist enfant terrible rocking the Irish art world,
dispensed with stage Irishry and Celtic mysticism to represent the working class women of a segregated
city scarred by sectarian violence. Regarded as one of the most interesting artists to emerge in the 1990s,
she has carried out community projects, collaborated with poets and film-makers, and exhibited widely in
Europe and the United States.
However in winter, when Tromsø is cloaked in darkness for
much of the day, the invitation from the Nordic Irish Studies
Network at first seemed somewhat bizarre. Yet as the Pyms
Gallery exhibition reveals, in its black stillness, visual
distraction is pared away and what remains is Duffy's most
captivating work to date.
Opening Hours:
Monday to Friday – 10.00am -5.00pm
Saturday – by appointment
For further details contact Lara Daly on 02076292020
Email: paintings@pymsgallery.com
PYMS GALLERY
FINE ART DEALERS
9 Mount Street Mayfair London W1K 3NG
www.pymsgallery.com