ref: cEr Oct 17-22 2011 AIR GALLERY Gordon Breckenridge - Open a 'pdf' of this press release - return to Galleries PR Index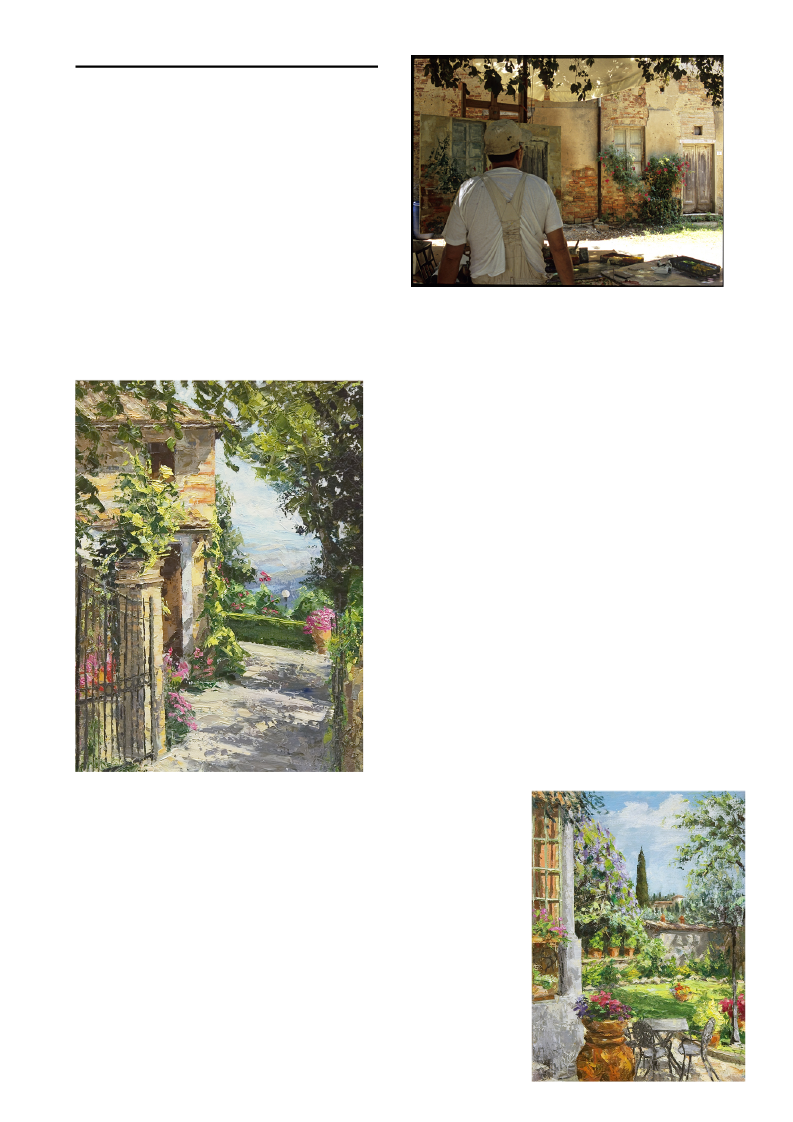 FOR IMMEDIATE PRESS RELEASE
Pure Tuscany
Gordon Breckenridge
17th October 2011 - 22nd October 2011
Gordon Breckenridge
Gordon Breckenridge Annual London Exhibition.
Gordon Breckenridge, one of Tuscany's best loved
contemporary artists, is in London to exhibit a
collection of his paintings opening on the 16th Oct
2011 (Private Viewing). Presented by Tuscan Style
at The Air Gallery, 32 Dover Street, London, the
collection titled "Pure Tuscany" includes 40+ of his
works depicting the warmth of Tuscany with his
characteristic bold use of strong colours to capture
the atmosphere and feeling.
Born in Canada in 1948 where he lived the first 24
years of his life, Gordon Breckenridge moved to
Florence where he graduated from the Academy of
Fine Arts and subsequently studied charcoal drawing
and painting with the renowned artist Nerina Simi.
These 9 years of classical training provided the
foundation from which Gordon went on to develop
his own unique, personal style.
After years of travelling continually painting mostly in the Cinque
Terre and Portofino with exhibitions there, and also, in Canada,
America and Europe, in 1991 Gordon, together with his Italian wife
and 4 children moved to San Gimignano, Tuscany, where he
opened his own Art Gallery.
He is the recipient of many honours including two "Greenshield
awards" and his paintings are to be found in over 500 collections
worldwide earning him international recognition and appreciation.
Today this successful gallery is still family run and the artist
continues to produce some of the finest of Tuscany's works.
Venue:
The Air Gallery
32 Dover Street
London W1S 4NE
(nearest Tube: Green Park)
Private Opening Evening:
Sunday, 16th October, 17:30pm – 21:30pm (Registration required at www.tuscan-gallery.com)
Opening Hours:
Monday 17th Oct. to Friday 21st Oct. – 11.00am -9.30pm
Saturday 22nd Oct. – 11:00 - 17:30
For further details contact Lenia Breckenridge at: tuscanstyle@yahoo.com
Website: www.tuscan-gallery.com
Presented by: Tuscan Style Limited