ref: e0r Aug 1-31 2011 THE ASSEMBLY HOUSE Flying Colours: Fascinating Forms - Open a 'pdf' of this press release - return to Galleries PR Index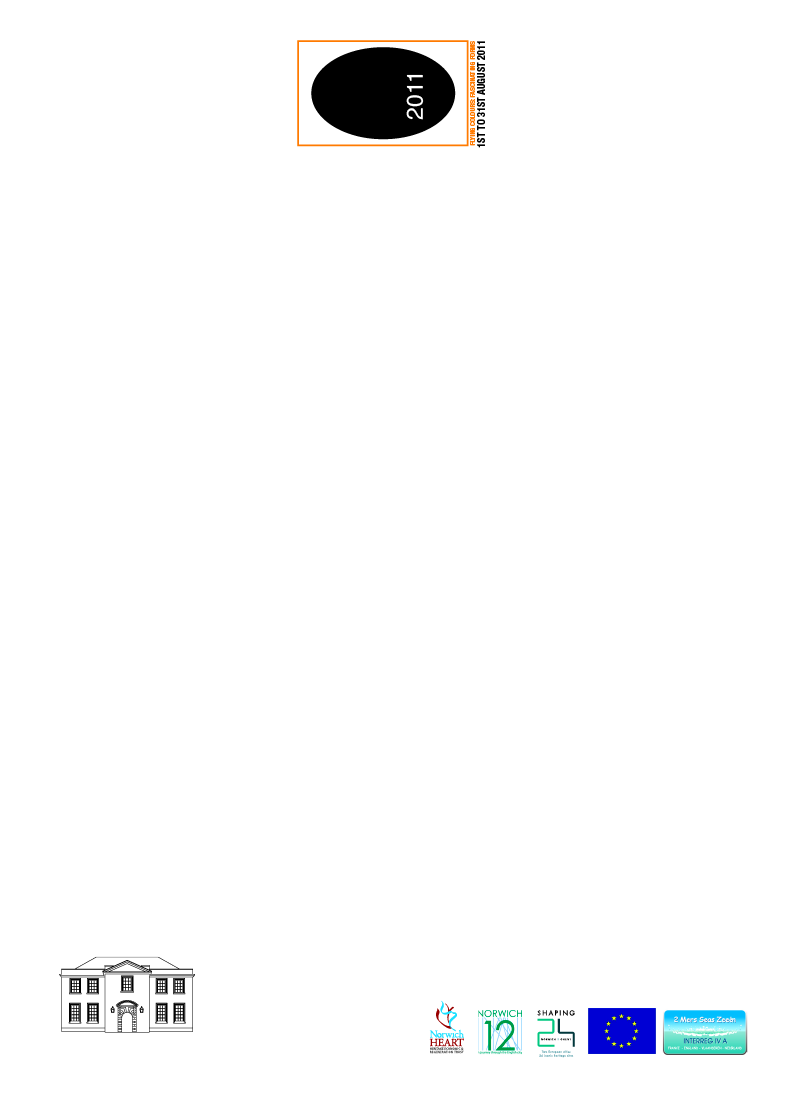 ASSEMBLY HOUSE
ART
SHOW
MAJOR NEW ART SHOW AT THE ASSEMBLY HOUSE IN AUGUST
(June 2011) This summer a brand new modern art show will take place at The Assembly House in Norwich,
showcasing new work by artists from Norfolk, Suffolk and Cambridgeshire. Called the 'Assembly House Art
Show 2011, Flying Colours, Fascinating Forms', it will take place throughout August and will feature work by
over 150 well-known, professional artists, semi-professional artists and talented art students. The Assembly
House Art Show will be curated by Yvonne and John Millwood, who were involved in the well-known annual
Salthouse contemporary art exhibition until its 10th anniversary last year.
Commenting on the Norwich event, Yvonne said: "We sent out a 'Call to Artists' at the end of last year and
were amazed at the response. We received over 1,200 ideas for works for the Assembly House Art Show
and narrowing these down to 150 artists was no easy task, as the standard was extremely high. The artwork
promises to be exciting, modern and thought-provoking and will range from painting, drawing and collage
to original prints, ceramics, installations and sculpture."
The art exhibition will take place throughout the impressive Georgian building on Theatre Street and, as
each piece is being created for this particular event, none of it will have been shown anywhere else before.
All of the artwork will be for sale and will range from £50 to several thousand pounds.
The Assembly House Art Show will be open daily from Monday 1st to Wednesday 31st August and, as the
Assembly House is a registered charity committed to supporting the Arts, entrance to the exhibition will be
free. In addition to the visual art exhibition, there will be a host of other activities, all based loosely on the
theme of "Flying Colours: Fascinating Forms". These include a ladies' lunch with top beauty brand MAC; a
Jarrold's fashion evening hosted by BBC Look East presenter Carol Bundock; jazz, bluegrass and classical
concerts; and a presentation by top fly fisherman David Wolsoncroft-Dodds. There will also be children's
cookery classes, puppet-making and papier mache workshops, and two authors' events – one with world-
famous author Louis de Bernieres, who'll be interviewed by the BBC's Stewart White, and another with
best-selling crime writer Sophie Hannah, whose work has recently been serialised on ITV.
The Assembly House Art Show has received some funding from Norwich HEART which promotes the
'Norwich 12', a dozen iconic buildings in the city. As there is a collection of equivalent buildings in Belgium,
called the 'Ghent 12', all those attending the Assembly House Art Show will also have the chance to win a
weekend break in Ghent, and entry to the competition will be free.
The Assembly House is located on Theatre Street, Norwich, NR2 1RQ. Further details about the Assembly
House Art Show and all the events are available on the website at: www.assemblyhousenorwich.co.uk/
artshow or by calling 01603 626402.
ENDS
Note to Editors: The Assembly House Art Show 2011 is supported by Norwich HEART's SHAPING 24
project which is part-funded by the European Regional Development Fund from the European Union's
INTERREG IVA 2 Mers Seas Zeeën Cross-border Cooperation Programme 2007-2013.
For further press information and pictures, please contact Carolyn Bowden on 07733 443142 or by email
at: carolynbowden@btinternet.com
The Assembly House, Theatre Street, Norwich, NR2 1RQ