ref: c8s Oct 11-23 2010 THE GALLERY IN CORK STREET Hamish Mackie - Open a 'pdf' of this press release - return to Galleries PR Index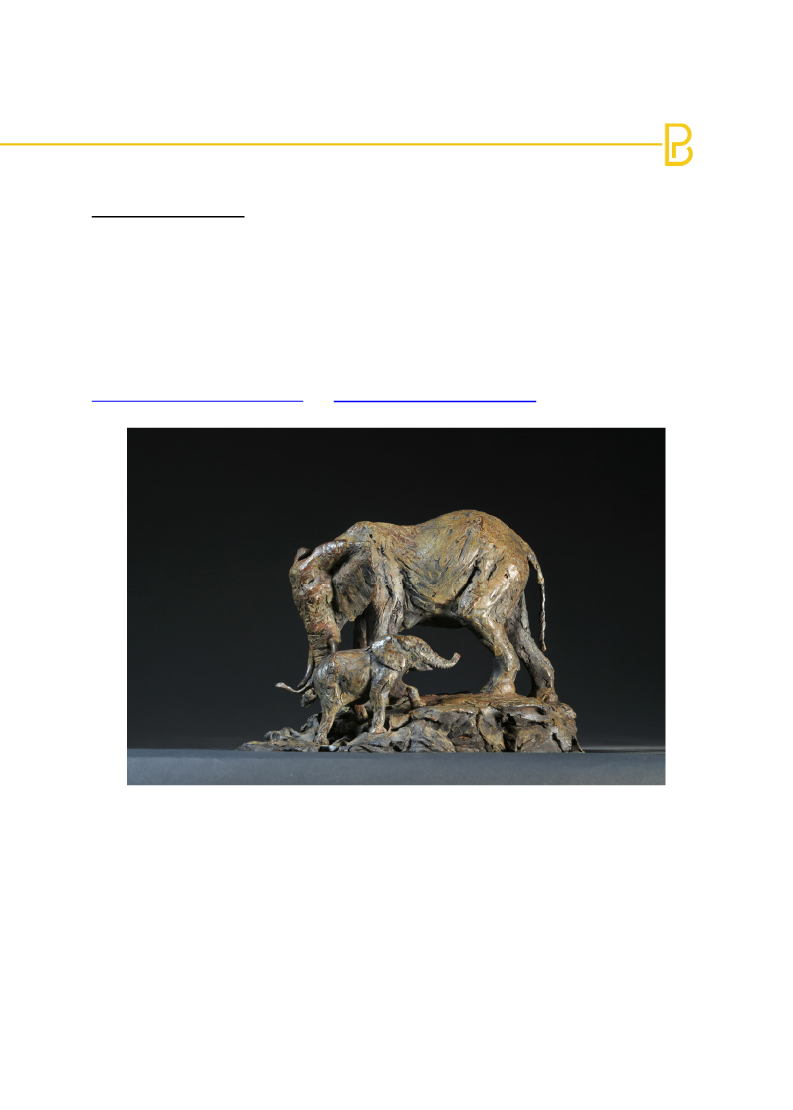 PRESS INFORMATION
Hamish Mackie
11th – 23rd October, 2010
The Gallery in Cork Street
28 Cork Street, London W1S 3NG
Tel: +44 (0)207 287 8408
Opening Times: Weekdays 10am-6pm, Sat 10am-4pm
http://www.galleryincorkstreet.com and http://www.hamishmackie.com
Hamish Mackie, Elephant Mother and Calf, 2009
Sparring bull elephants, leaping impala, graceful leopards and black rhinos will be released into
the Cork Street Gallery on October 11th by Hamish Mackie, one of Britain's top wildlife sculptors.
In his first solo exhibition for three years, Mackie demonstrates his ability to capture the
movement, energy and character of his favourite animals, all exquisitely cast in bronze and
silver. The exhibition is affiliated with the Tusk Trust and Kenya's Lewa Wildlife Conservancy, a
vast sanctuary for endangered species where the artist spent time studying and recreating the
animals around him.
Mackie has always immersed himself in the natural environment. He gets up close and personal
to his subjects; whether he is standing a matter of yards away from a herd of elephant or

studying the carcass of a wild boar in his studio, he manages to truly capture the essence of his
subjects in a way which only sculpting from life allows. The 40 works in Mackie's Cork Street
menagerie will captivate viewers with their unmistakable energy and outstanding sense of
movement.
Mackie's purpose built studio is in the garden of his converted barn in Oxfordshire. Amongst the
system of hoists and pulleys which he uses to hang carcasses for study, lie impressive
examples of his unique craftsmanship. A wild boar and a red stag, both bronze and life-size,
which stand proud alongside a large Spanish bull, add testament to Mackie's adventurous
research trips. From living amongst the Kenyan flora and fauna and fishing for yellowfin tuna off
the Lamu coast, to studying the anatomy of bulls in Spain and stalking stag in the Scottish
Highlands, Mackie has managed to turn his fervent passion for nature into a successful
vocation.
Replicating the many facets of animal character, Mackie's work exudes the powerful yet
poignant juxtapositions of the animal kingdom, capturing the duplicity of both predator and
matriarch. Mackie's three elephant sculptures exemplify this as they show three different
aspects to elephant behaviour. The sculpture of the fighting bulls is being cast as a unique one-
off in silver, and is one of the largest silver sculptures to be cast this year.
The production process is meticulous and highly skilled. By initially sculpting his subject out of
clay or wax over an armature made of steel or aluminium, silicon rubber moulds, wax positives
and ceramic shells can be made in preparation for the ancient 'lost wax' casting technique.
Intrigued by the fact that you are able to cast a fingerprint into bronze, Mackie likes to leave a
history in the surface of his sculptures: "The forceful push of my palm running down a leopard's
leg generates power into the sculpture and leaves a history as to how it was made." He is also
one of very few sculptors to carry out their own patination, as he regards "the process to be
equally as important as the colour of paint on a canvas." Each of his sculptures is limited
edition, signed, dated and numbered.
Mackie's forthcoming exhibition of wildlife sculptures aims to spread awareness of endangered
animals and raise funds to help counteract the increasing rate at which numerous species are
becoming extinct. The UN has just released a major new report, claiming that a third of our
animal and plant species now face extinction, and Mackie hopes to use his passion and talent
to bring this fact to light.
"Having spent so much time studying wildlife in its natural environment, I've developed a
true understanding of animal behaviour. I aim to portray my interpretation through
sculpture, capturing the essence of each species and individual.
A recent poaching incident which resulted in the death of two black rhinos at the Lewa
Wildlife Conservancy has acted as a painful reminder that the threats against wildlife are
rife, and that continued investment in global wildlife conservation is essential. I hope my
involvement with Lewa UK and my associated works will help to bring this fact to light.
I've now reached a stage in my career which will allow for more 'field' research and
almost at the extreme opposite to the African bush I am going to The Falklands, South
Georgia and Antarctica with Ice-Tracks in February."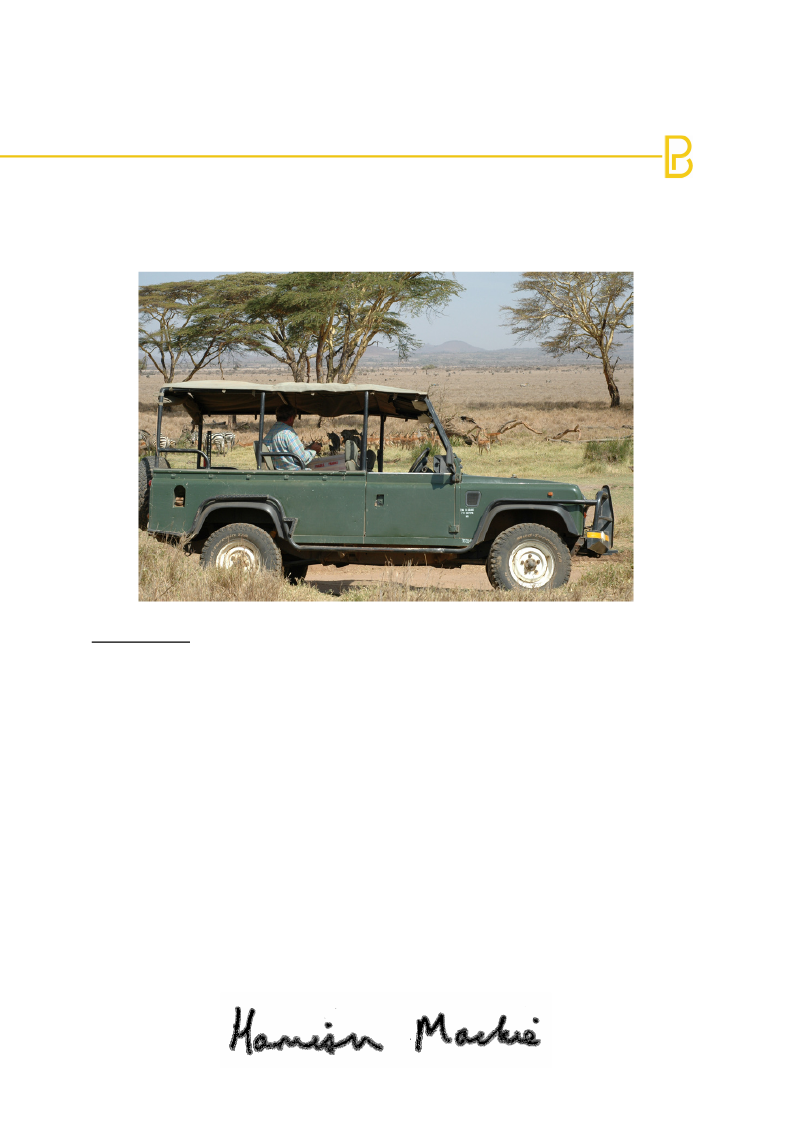 Hamish Mackie is available for interview.
Hamish Mackie
Hamish Mackie was born in 1973 and grew up on a livestock farm in Cornwall. He has been
sculpting as a career since 1996 and has works in public and private collections around the
world. Public commissions include Merrill Lynch, Hiscox Insurance, Barclays Bank, The
National Trust, RSPCA, Woburn Abbey, Chapman University California and Gilbane
Development Company Rhode Island. His passion for sculpture began at Radley College, and
he went on to develop it at Falmouth school of Art and Kingston University.
Hamish first arrived at the Lewa Wildlife Conservancy on his 'gap year' in 1996, and it is here
that the sculpting bug took hold. In 2009 he returned for a 4 week research trip during which he
formed the backbone of the wildlife sculptures. He is affiliated with the conservancy and
endeavours to help their conservation efforts.
Hamish is a technically accomplished sculptor working closely with the Lockbund Sculpture
Foundry, and occasionally others, pushing the boundaries of casting metals such as bronze,
silver and stainless steel. Lewa Wildlife Conservancy
The Lewa Wildlife Conservancy works as a catalyst for the conservation of wildlife and its
habitat through the protection and management of species, the initiation and support of
community conservation and development programmes, and the education of neighbouring
areas in the value of wildlife.
For further information, please contact Monique Rivalland or Will Paget
Email: monique@pagetbaker.com Tel: +44 (0) 20 7323 6963