ref: c1s Oct 18-30 2010 BARRY KEENE GALLERY The Autumn Exhibition - Open a 'pdf' of this press release - return to Galleries PR Index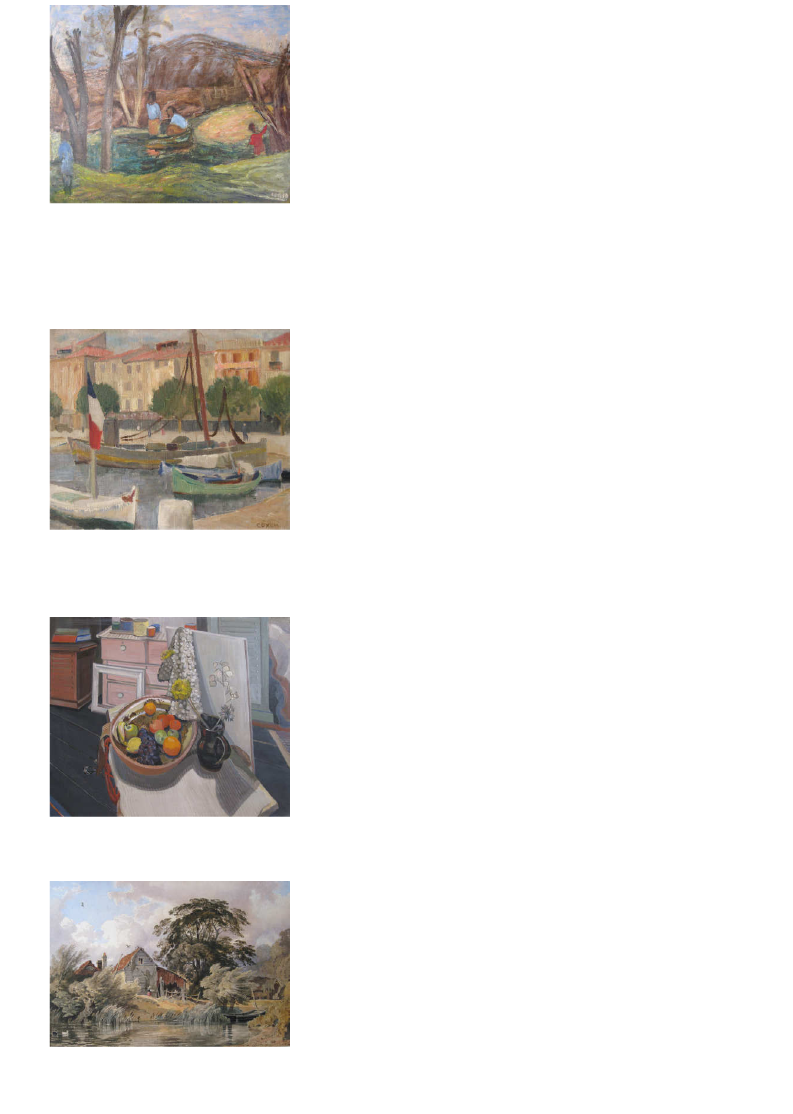 HENRYK GOTLIB L.G. (Polish/British) (1890 – 1966)
"Surrey Landscape 1960". Oil Painting on Canvas. (635 x 762mm).
Signed. Prov: Exhibited at the Scottish National Gallery of Modern
Art Edinburgh 1970, Retrospective of Paintings and Drawings by
Henryk Gotlib. Catalogue number 28 (with original exhibition
label). Also exhibited at Southampton Art Gallery and the National
Museum of Wales. Lent by Mrs Janet Gotlib, the Artist's wife.
RAYMOND COXON (1896 – 1997)
"Boats in Harbour" (South of France).
Oil painting on canvas. 381 x 463mm. Signed
Exhibited the London Artists' Association at Cooling Gallery, Bond
Street, London in 1928. With part of the original exhibition label.
MARION GRACE HOCKEN(1923 -1987)
"Studio Still Life, Zennor". Oil painting on board. 635 x 762mm.
Signed & dated. Provenance – from the Artist's Studio Collection.
GEORGE ARTHUR FRIPP R.W.S. (1813 – 1896)
"Farm Buildings by the Thames".
Watercolour. 340 x 494mm. Signed & dated 1851
BARRY KEENE
GALLERY
THE AUTUMN
EXHIBITION
FINE PAINTINGS,
WATERCOLOURS,
DRAWINGS, ETCHINGS,
WOOD ENGRAVINGS
From 1850 to 1970
With work by:
Frank Beanland, Raymond Coxon, Edith Brearey Dawson, Nelson Dawson,
Lionel Maurice DeSausmarez, Edward Duncan, Thomas Adolphus Falcon,
Charles Flower, George Arthur Fripp, Henryk Gotlib, Joan Hassell,
Simon Hepworth-Nicholson, Marion Grace Hocken, Edward Beecham Lait,
Raymond Martinez, Aaron Edwin Penley, Joe Rose, Adolphine Mary Ryland,
Rudolph Helmut Sauter, Dody Strasser, Peter Thursby, Freda Tremlett etc.
Private View Sunday 17th October 11am – 5pm
(continues for two weeks Tues. to Sat. 9.30 – 5.30
until Saturday 30th October)
BARRY KEENE
GALLERY
12 Thameside, Henley-on-Thames, Oxon,
RG9 1BH
Tel: 01491 577119
enquiries@barrykeenegallery.co.uk
www.barrykeenegallery.co.uk
(illustrated catalogue & invitation to the
Private View available on request)
Images and artist's biographies are available to
view on our website from 7th October