ref: i6s Apr 24-25 2010 READING CONTEMPORARY ART FAIR Reading Contemporary Art Fair - return to Galleries PR Index - Open a 'pdf' of this press release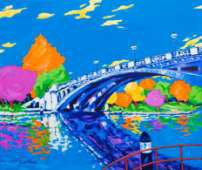 MEDIA INFORMATION
January 2010
FIRST READING CONTEMPORARY ART FAIR
APRIL 2010
SECOND EVENT FOR SUCCESSFUL ORGANISERS
The fair is being orgainised by the team behind the highly successful
Windsor Contemporary Art Fair, and will be opened by Sir John Madejski
OBE DL.
Organiser Sarah McAllister says: "We are very excited about launching the
Reading Contemporary Art Fair, our events have always been about
bringing exciting new art to the widest possible audience. We present our
exhibitors in a relaxed but professional setting, giving them the best
platform to showcase their work while allowing them to talk about their
art directly with the public – something few other art shows do. Our aim is
to de-mystify the art world and make it truly accessible to everyone."
The fair brings together an exciting mix of over 80 artists, printmakers,
photographers, sculptors, ceramicists and selected galleries offering the
very best in contemporary art with prices from £40 to £4,000.
Exhibitors includes artists from all over the UK, Europe and a strong
contingent from the local area, newly qualified and established artists
along with a number of galleries bringing together accepted masters and
young beginners.
The interactive element of the fair is very important, visitors will be able
to participate in workshops by Readings own artists group Jelly.
Sarah McAllister adds: "We encourage everyone to join in the workshops.
They are great fun, and have been known to completely change people's
perceptions of their own artistic capabilities."
Reading Contemporary Art Fair
When: Saturday 24th-Sunday 25th April 2010
Where:
Rivermead Leisure Complex
Richfield Avenue
Berkshire RG1 8GQ
Tickets:
Adults £6.00
Concessions £4.00
Children under 12 free
Café and wine tasting available throughout the weekend.
ENDS
For all information on Windsor Contemporary Art Fair:
Deborah James 01753 591892 info@readingcontemporaryartfair.co.uk
Sarah McAllister 01753 591892 sarah@readingcontemporaryartfair.co.uk
Web: www.readingcontemporaryartfair.co.uk