ref: h2s May 24-29 2010 54 THE GALLERY Sarah Blackett-Ord, Caroline Tetley - Open a 'pdf' of this press release - return to Galleries PR Index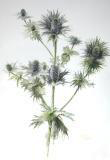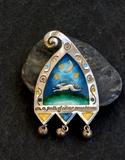 A LIGHT TOUCH
RECENT BOTANICAL AND ARCHITECTURAL PAINTINGS BY SARAH BLACKETT-ORD
AND ENAMEL JEWELLERY BY HER SISTER CAROLINE TETLEY
The Gallery, 54 Shepherds Market, W1J 1QX
From Monday 24th May – Saturday 29th May 2010 Mon – Sat 10am – 6pm
sbord@onetel.com
07743662632
www.sarahblackettord.com
Eryngium watercolour
Sarah usually paints in watercolour but also enjoys drawing in pencil, particularly early in the Spring
when the architectural lines of the bulbs seem to require a harder less painterly quality than
watercolour. She also paints buildings and particularly likes the stone of Northumbrian bridges and
walls. In this exhibition there will also be some still life pictures with the bright light of reflected snow
contrasting with the gentle light of summer on the botanical plants.
Caroline worked as a silversmith after completing courses in Bristol but having studied the technique of
enameling, she has found colour a welcome addition to her work. She will be showing earrings,
bracelets and pendants, each with her own unique designs based on myths and legends as well as her
rural surroundings. She has completed many private commissions and has taught at and near her home
in Somerset for a number of years.
Silver Moonbeams