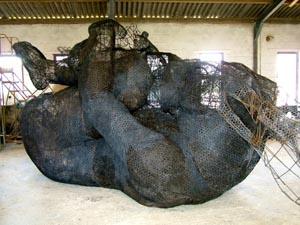 After the runaway success of her 1999 show entitled 'Life Force' at Bath and North East Somerset Council's Victoria Art Gallery in 1999, acclaimed sculptor Sophie Ryder is back with a thought provoking new exhibition of large scale sculptures and wire drawings.

The new exhibition will be on display at the Council-run Art Gallery near Pulteney Bridge in Bath from Saturday 4 April until 10 June 2009. There will also be a Sophie Ryder trail involving a range of other venues and open spaces, including Bath Abbey and Abbey Church Yard.

Jon Benington, Manager of the Victoria Art Gallery, said: "Bath & North East
Somerset Council is delighted to welcome Sophie Ryder back with her latest exciting collection of work. The exhibits include monumental half-human, half-hare figures that the visitor can touch and interact with by means of pathways cutting through the middle of the sculpture."
"In her new work, Ryder is less concerned with narratives involving a cast of characters. Now the focus is much more on single figures and their inner states of being – often reflected by the enclosed or encircling poses that they adopt. These inner states include sleeping, dreaming, watchfulness, withdrawal and self-protection. They reflect the artist's concern for recent events that have had a global impact, such as 9:11 and the ever present threat from terrorism and environmental disasters."
Also included are giant wire drawings and sculptures of hands and eyes, isolated from their anatomical contexts. These pieces stress the humanity that lies at the core of Ryder's work, even in the 'hybrid' figures that are half animal and half human.
For over 20 years, Sophie Ryder has consistently found a warm reception for her work in Bath. She studied at the Royal Academy Schools and is in great demand at exhibitions and art fairs all over the world. Many of these works have been monumental in scale and placed in outdoor settings.

She lives with her husband and two children in a converted barn in the Cotswolds where she creates her work in a studio converted from a cow byre.

Jon Benington added: "The idea of making three-dimensional sculptures entirely from wire was pioneered by Sophie Ryder. She begins with a metal armature, which is covered with wire of different thickness, including bed springs and other pieces salvaged from skips."

"To shape the wire she uses her bare hands and pliers, sometimes aided by a hammer. It is a very physical job and tough on the hands, which inevitably get filthy and cut to ribbons."

Full details are available on the website at www.victoriagal.org.uk or by calling the Victoria Art Gallery on Tel: 01225 477233.

The Victoria Art Gallery is open Tuesday to Friday 10am-5.30pm, Saturday 10am-5pm and Sunday 2pm-5pm. The Gallery is closed on Monday and admission is free.

ENDS

Attached Image: Sophie Ryder, Upside Down Kneeling
Notes to Editors:
Bath & North East Somerset Council's art gallery houses the area's permanent collection of British and European art from the 15th century to the present day. The Gallery has one of the best temporary exhibition programmes in the region, ranging from prints to sculpture, including national touring exhibitions and major retrospectives. There are frequent workshops, holiday activities and a full
For further information and images contact:

Sue Lucy , Gallery Administrator on Tel: 01225 477232 or e-mail sue_lucy@bathnes.gov.uk