John Leach, potter – selling art deep in the heart of Somerset ..1
Five  years ago, potter John Leach, grandson of the illustrious Bernard Leach, added a contemporary art gallery to the small shop at his thatched Muchelney Pottery deep in the heart of the Somerset Levels.   It was the realisation of a burning ambition. He wanted space to be able to exhibit the work of the local artists and makers he admired as well as sell his own handmade pots.
But, since its opening, the Gallery has acquired a national reputation and has attracted visitors from far and wide, not only for the shows spotlighting West Country contemporary art, but also for exhibitions by artists of the highest international calibre.
"We little guessed when we built the gallery", admits John Leach, "that we would be showing and selling work by some of the 20th century's greatest artists here at Muchelney, miles from anywhere! Chagall, Miro, Gill, Piper, Matisse, Kandinsky.  It's been amazing!"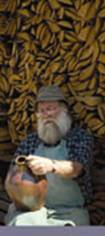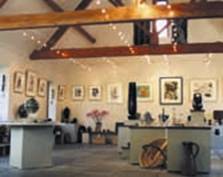 The international exhibitions came about as the result of collaboration with the well-known Goldmark Gallery.
True to his original concept however, John continues to organise exhibitions for locally-based artists. "I'm  absolutely astonished at the breadth of artistic brilliance here on our doorstep in the west of England," he says.
The June exhibition at the John Leach Gallery bears out this statement.  Salisbury-based artist Prudence Maltby will be showing the intriguing results of her studio work over the past year in a solo exhibition of her paintings, 'Landscape Unearthed'.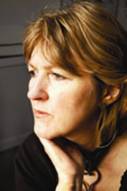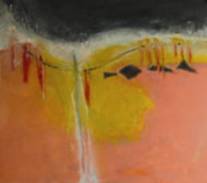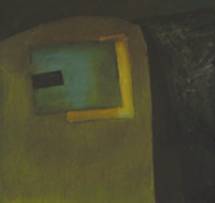 Powerful and compelling, the 45 paintings are inspired by memories of landscape, particularly of Zimbabwe where Prudence  Maltby lived for 35 years until the 1990's. Although, she insists, "it was not my initial intention to develop a body of work embracing landscape. It was a life-long fascination, not so much with the geography of a place, but with the spirit of a space."
 'Landscape Unearthed'  presents touchstones of reminiscence, an allegorical wander, a location of self. "The juxtaposition of man's angled structures and nature's soft textures is intrinsic to my work, as well as an acknowledgement to a life flavoured with the different rules and customs of far away cultures," Prudence explains.
The daughter of artists and granddaughter of Joseph Cribb, Eric Gill's first apprentice, Prudence Maltby began her own artistic career with illustrative work in Africa. 
'Landscape Unearthed' will be open in the John Leach Gallery at Muchelney Pottery, near Langport, Somerset TA 10 0DW, from June 1 – July 8, Monday to Saturday, 9-1, 2-5.  More details of the artist and her paintings can be discovered on John Leach's website, www.johnleachpottery.co.uk.
captions:
Muchelney Pottery, near Langport, Somerset
Potter John Leach
Prudence Maltby - portrait
'Drying Kudu'  - Prudence Maltby -  25" x 22"  oil on paper  £350


'Swimming Pool Hill' -  Prudence Maltby - 12" x 11"  oil on paper  £250
For jpeg images please contact:
Marian Edwards
Creative Marketing
01884 255006
For more information please contact:
John Leach
Muchelney Pottery
01458 250324