PRESS RELEASE: TWENTY TWENTY GALLERY, JULY 2009
twenty twenty
Sue Campion RBA
Recent Paintings & Pastels
4th July to 1st August 2009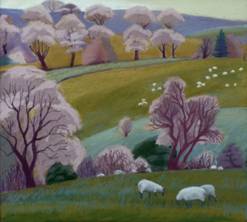 May on Long Mountain. 18x20. Pastel. Sue Campion
Sue Campion RBA was born in London in 1944.
In the early 1960ís she studied as a display artist and lead
a creative and interesting life during the 60ís and 70ís.
Between 1984-1986 she traveled throughout Europe painting and drawing
before returning to England to study Fine Art at Nottingham Trent University
and graduating in 1990. Since graduating Sue Campion has had numerous
solo exhibitions, her work is held in many corporate collections and she has
recently been elected as a member of the Royal Society of British Artists.
This new exhibition of work at Twenty Twenty Gallery in Much Wenlock, Shropshire
is in effect her Ďhomeí show. Her studio is based only a few miles away
from the gallery and many of the landscapes that she has included in the exhibition
are of the surrounding undulating fields, hedges and hidden valleys of Shropshire.
Working confidently and mainly in pastel, Sue Campionís pictures are carefully constructed.
Her palette whilst rich in colour is neither flamboyant nor delicate; it echoes the basic honesty
of what she sees: muddy greens, warm browns and reds, and grey-blue skies. The farmland
that she draws is reminiscent of the British Rail Posters of the English countryside 1950ís.
It is an appealing and familiar world.
Twenty Twenty Gallery is in the delightful town of Much Wenlock, Shropshire not far from the Welsh border.
It is approximately 12 miles south of Shrewsbury and 28 miles north of Ludlow.
Hours of opening: Tues to Sat 10am to 5pm
Please contact: Mary Elliott
Tel: 01952 727952
Email: info@twenty-twenty.co.uk
More information is available on the website: www.twenty-twenty.co.uk
twenty twenty
3 High Street, Much Wenlock, Shropshire TF13 6AA
Telephone: 01952 727952 Email: info@twenty-twenty.co.,uk
www.twenty-twenty.co.uk