<![if !vml]>

<![endif]>
<![if !supportEmptyParas]> <![endif]>
PRESS RELEASE
<![if !supportEmptyParas]> <![endif]>
Transformations
Form and Function in Recycled Glass
<![if !supportEmptyParas]> <![endif]>
10th September to 24th October 2009
<![if !supportEmptyParas]> <![endif]>
<![if !vml]>

<![endif]> <![if !vml]>

<![endif]><![if !vml]>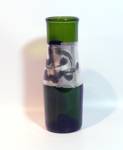 <![endif]>
<![if !supportEmptyParas]> <![endif]>
<![if !supportEmptyParas]> <![endif]>
Zest Gallery is delighted to announce Transformations, our first exhibition dedicated to energy-efficient art, as part of the London Design Festival. The exhibition focuses on makers who recreate glass art by recycling, reusing and remaking. It promotes the issue of sustainability in an accessible way by featuring the work of artists who are revolutionising the way glass art and glass products are created, using less energy than conventional studio glass techniques.
<![if !supportEmptyParas]> <![endif]>
During the exhibition, we will be running a number of creative events at Zest Gallery and the adjacent Aaronson Noon Studio, one of the largest hot glass studios in the UK. With artist talks, making workshops and demonstrations designed to encourage people to see discarded glass material in a new light, there will be lots to see and do!
<![if !supportEmptyParas]> <![endif]>
Melting glass uses energy and affects the environment. As part of our continued effort to reduce energy consumption and with the assistance of a Carbon Trust loan, Aaronson Noon recently switched to energy efficient furnaces saving 25 tonnes of carbon per annum. However, recycling glass uses far less energy and reduces pollution even further! What's more, glass as a material has a unique ability to be infinitely recycled – a compelling case for the recycling of glass. With this in mind, glass artist Adam Aaronson wanted to find an innovative way of recycling wine bottles into water carafes without losing the integrity of the original vessel. In most recycling processes, the glass is broken up and completely re-melted. Adam liked the idea of giving new life to an existing object to retail at £30!
<![if !supportEmptyParas]> <![endif]>
"The main production challenge is that bottle glass has been designed to be machine made and not worked by hand. The whole thing is a fairly organic process, since I'm recycling wine-bottles, where I may have actually drunk the contents prior to proceeding – not on the same day though! I add silver leaf and re-shape the bottles by hand. I use a fierce flame to patinate the silver, sometimes creating a graffiti style H2O and sometimes an abstract pattern." Adam Aaronson
<![if !supportEmptyParas]> <![endif]>
Helene Uffren's work also uses the instantly recognisable form of a previously used wine bottle as the starting point for her work. She wanted to transform its identity and its use - to add value and upgrade its status. She creates hybrid multi-purpose bottles, decanters and multi function food jars by combining free blown elements together with the recycled wine bottles. This work is a playful investigation into balance and contrast between something familiar, something new and continuity.
<![if !supportEmptyParas]> <![endif]>
Brett Manley creates one off moulds using found objects or things she's grown on her allotment - recycling nature into glass and found glass into art! Xiaoou Zhang has recently completed an MA in Glass Design and is similarly inspired by nature's delicacy and strength to create both functional and decorative work.
<![if !supportEmptyParas]> <![endif]>
For Jude Stoll reusing and recycling forms the foundation of her work. She delights in transforming undesirable waste into a beautiful object that people will want again. As well as developing a community recycling project and scrapstore, Jude secured funding from Cumbria County Council Waste Prevention Fund and Cumbria Learning Links to set up a recycled art studio. She holds art workshops utilising waste as material, aimed at educating the community about recycling.
<![if !supportEmptyParas]> <![endif]>
Anne Arlidge creates cast glass vegetables from real vegetables by re-heating a piece of cold recycled Dartington crystal andletting this take the form of a mould. Similar to the lost wax process Anne calls it "The Lost Vegetable Process". Using discarded glass from the manufacturing process is something glass artists have been doing for a number of years – a perfect example of "waste not want not!"
<![if !supportEmptyParas]> <![endif]>
Zest Gallery is internationally recognised as London's foremost destination for contemporary glass. Founded in 2003 by Adam Aaronson, Zest brings outstanding British
and international glass to a wider audience through an exciting exhibition programme. The gallery showcases the work of emerging talent alongside established artists who are
the best in their field. Over the last 30 years, as well as making his own work, Adam has supported makers at various stages of their careers and this collaboration is the latest example.
<![if !supportEmptyParas]> <![endif]>
Zest runs varied and innovative events throughout the year, as well as offering visitors the chance to enjoy a fascinating insight into the skilled process of glass making in Adam Aaronson's adjacent glass studio, where we are committed to reducing our carbon footprint.
<![if !supportEmptyParas]> <![endif]>
Entrance to the exhibition is free and all work is available to buy from Zest Gallery.
Zest Gallery is open: Tuesday to Saturday, 10am to 6pm
<![if !supportEmptyParas]> <![endif]>
<![if !supportEmptyParas]> <![endif]>
For images, artist biography or further information on the exhibition, Zest Gallery or
Aaronson Noon Glass Studio please contact:
Nell Reid on +44 (0) 20 7610 1900 or email nell@zestgallery.com
Roxby Place (end of Rickett Street), London, SW6 1RS
<![if !supportEmptyParas]> <![endif]>
<![if !supportEmptyParas]> <![endif]>
Notes to editors:
<![if !supportEmptyParas]> <![endif]>
Zest Gallery
Zest Gallery opened in September 2003 to exhibit cutting edge contemporary glass art. It showcases the work of renowned glass artists as well as new faces on the scene.
<![if !supportEmptyParas]> <![endif]>
Aaronson Noon Glass Studio
Adam Aaronson's studio runs half-day glass blowing courses offering an exciting and intensive experience aimed at introducing beginners or novices to the wonders of hot glass. Further information available from nell@zestgallery.com / +44 (0) 20 7610 1900.
<![if !supportEmptyParas]> <![endif]>
Adam Aaronson
For more than 25 years, aside from making his own glass, Adam Aaronson has been discovering and promoting emerging artists, including many who are now established glass artists, such as Tessa Clegg, Anna Dickinson and many others. He has always offered residencies and internships to both British and international artists and continues to support new glass talent by working collaboratively with artists, encouraging their use of hot glass in his studio.